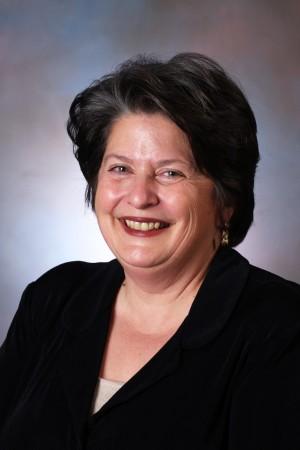 Terry Schwartz didn't miss the irony of a 9 a.m. meeting with a UCCS staff member on the first day of her retirement.
Schwartz, 66, who retired June 30 as the interim UCCS provost, chuckled at the realization that this day was starting like so many others. But this time, the attire was a UCCS t-shirt and the setting was a downtown coffee shop, perfect for reflecting on an 18-year academic career and plans focused on travel, grandchildren, relaxation and, possibly, some professional consulting.
"Please convey my appreciation to everyone," Schwartz said. "I care deeply for so many people on campus and have such respect for their intellectualism and commitment both to scholarship and students. It's important for me to say thank you."
At her request, Schwartz didn't have a farewell party before turning over the provost's duties to Tom Christensen. That's just not her style. There were celebrations when she won the coveted Thomas Jefferson Award in 2011 and when the School of Public Affairs earned its accreditation independent of CU Denver in 2014. Two parties were "more than enough for one person," she said.
Schwartz joined the UCCS School of Public Affairs in 1999 as a senior instructor following a successful career as a special education teacher, director of education for the Myron Stratton Home and as an executive for non-profit organizations focused on children and families. Prior to serving as an instructor, she completed master's and Ph.D. in public administration from CU Denver.
In 2004, she was named associate dean of the UCCS School of Public Affairs, a position that had day-to-day autonomy but officially reported to the dean of the CU Denver School of Public Affairs. The UCCS program was an administrative extension of the Denver program. Schwartz led an effort to separate from CU Denver and for the public administration degree to be independently accredited. Those milestones were reached in June and July 2014, respectively.
Independence allowed the UCCS School of Public Affairs to flourish, adding students, faculty and staff. Schwartz served as interim dean of the newly independent UCCS School of Public Affairs before being tapped as associate vice chancellor for academic affairs in October 2014 and later serving as acting and interim provost.
"Finishing my career at the campus leadership level allowed me to get to know more faculty – that was a huge plus," Schwartz said. "But the provost's job is a difficult one. By the time an issue gets to the provost, lots of smart, thoughtful people have already been involved and tried to solve it."
Now officially an associate professor emerita, Schwartz plans to spend the summer with grandchildren, ages 6 and 10, and the fall with a trip to Nova Scotia. Those opportunities all mean the opportunity to wear a t-shirt or stick around for a second cup of coffee.
"I have great confidence in the future of UCCS," Schwartz said. "I look forward to seeing the university's continued progress and participating in some small way."