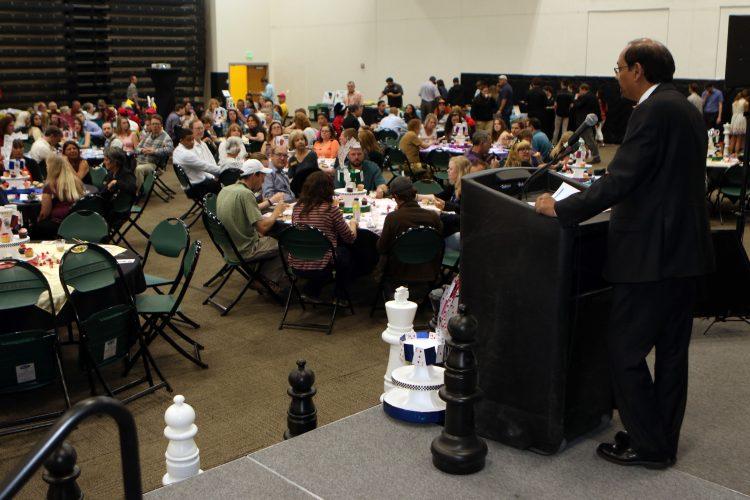 A May 25 Professional Staff Association Spring Luncheon included longevity awards for more than 60 staff members employed for at least five years at UCCS or other CU campuses.
Cindy Norton, hazardous materials specialist, Public Safety Department, and Professional Staff Association president, used university personnel records  to calculate longevity. She and Chancellor Venkat Reddy congratulated those who attended the event and presented a memento recognizing their service.
A staff member's service as a student employee, as well as at any CU campus, is included. Annual employment dates are calculated as of the start of the current fiscal year.
Questions about longevity awards should be directed to Norton, [email protected]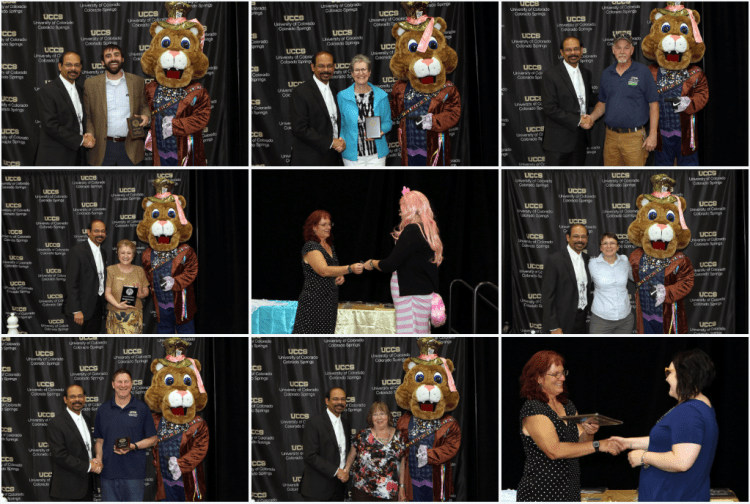 See more photos from the event on the UCCS Staff Association website.
Longevity Award Recipients
5 year

Ed Anderson
Executive Director of Strategic Military, Science, Space and Security Initiatives
Ellen Burkart
Director, Student Retention and First Year Experience – Parent/Family Programs
Renee Cinkosky
Assistant Parking Manager
Krista Farmer
Senior Campus Solutions Specialist Office of Registrar
Stephannie Finley Fortune
Executive Director – University Advocacy and Partnerships
Ray Fisco
Prevention and Outreach Coordinator Office of Dean of Students
Brett Fugate
Director of Academic Advising
Johnnie Keen
Head Athletics Coach-Men's Soccer
Cheya Lacroix
Enrollment Coordinator
Rick D. Landis
Maintenance Services Supervisor/Structural Trades III
Christopher Mellott
Residence Hall Manager
Elisabeth Moore
Program Manager, Ethics Initiative
Molly Mulligan
Electronic Resources Acquisitions Professional, Kraemer Family Library
Michelle E. Neely
Director-Writing Across the Curriculum
Heather Neilan
Senior Academic Advisor
Heather Nicholson
Assistant Director Office of Veteran and Military Student Affairs
Jeffrey Parman
Equipment Operator, Parking and Transportation
Raul V Perez
Head Cook, Family Development Center
Molly A. Shipp
Program Assistant I, Admissions Services
Karl Steen
Equipment Operation II, Parking and Transportation
Kirk B. Von Loh
Maintenance/Structural Trades II

10 year

Z. Benek Altayli
Director Wellness Center Mental Health Services
Chris Beiswanger
Director Admissions Services
Shannon Cable
Director Financial Aid/Student Employment – Student Employment
James Carroll
Custodian I
Jeffrey M Foster
Associate Director University Advancement – University Communications and Media Relations
Oksana V. Glushchenko
Accountant II
Larry Gonzalez
Communications Technician, Public Safety Department
Stephanie Hanenberg
Executive Director Wellness Center
Dana Hass
Custodian I
Rose Marie Johnson
Program Assistant I, English Department
Mary Lile
Property/UBIT Accountant
Kevin Long
Structural Trades II
Mary McGill
Human Resources Professional, college of Letters, Arts and Sciences
David Moorehead
Custodian I
Sue Myers
Special Assistant for Academic Affairs
Scott Morison Reardon
Budget Analyst
Jesse Rochell
Cashier Supervisor, Resource Management Division – Student Financial Services
Eric Schneider
IT Professional II
Vicki M. Schober
Physician, Medical Director Wellness Center
Michelle Toro-Dietz
Assistant Director Financial Aid/Student Employment – Loans
Debbie Von Rueden
Administrative Assistant III/Orientation Reservations Coordinator

15 year

Ernest Alfonso
IT Technician II
Brooke K. Allen
Program Manager of Processing, Financial Aid/Student Employment – Operations
Ariadna Coffman
Outreach Specialist, Admissions Services
Ida Dilwood
Director Disability Services and University Testing Center
Carlos Garcia
Associate Vice Chancellor for Administration and Finance
Linda Goodwin
Senior Admissions Counselor, Admissions Services
Jennifer Hane
Director of Alumni Relations and the Annual Fund
Thomas Hutton
Executive Director, University Advancement – University Communications and Media Relations
Steve Linhart
Assistant Vice Chancellor/Dean of Students
Jody Nelson
Director-Program Development, Family Development Center
Andreanna Romero
Conference and Event Specialist, University Center
Ruth Sansing
Academic Advisor
Chuck Simmons
Lab Coordinator I, Chemistry and Biochemistry Department
Rhea J. Taylor
Associate Director, Resource Management Division – Budget and Planning Office
Sammy D. Wilding
Maintenance/Structural Trades II

20 year

Scott Rehorst
Lab Coordinator, Physics Department
Jayne Weaver Lloyd
Finance and HR Professional, Kraemer Family Library
Beverly Kratzer
Director, Career Center
Anthony James Cordova
Director, Multicultural Office for Student Access, Inclusiveness and Community (MOSAIC)

25 year

Sam Frank
IT Professional II
Jeff C. Davis
Executive Director of Auxiliary Services Operations
Joanne Claire Mosier
Assistant Registrar, Office of Registrar

30 year

Kirk Moore
Executive Director of Innovation of Computing Services
Kathryn Andrus
Instructional Technologist, Faculty Resource Center
— Photos by Tom Kimmell