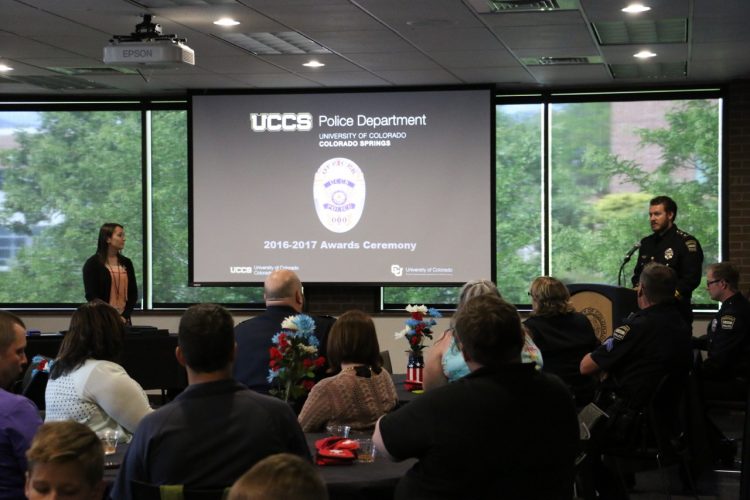 UCCS police officer Craig Ginter was named 2017 Employee of the Year during the Public Safety Department's annual awards ceremony June 21.
Ginter was among several Public Safety employees recognized for their service to the university.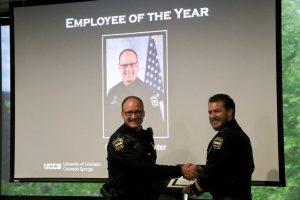 "Ginter exemplifies the qualities of having a positive attitude that promotes the university and department and encourages others," said Chief Marc Pino. "Craig never seems to be having a bad day and is always willing to do what needs to be done."
Ginter joined the department in 2012 after attending the police academy while working in UCCS facilities.
Pino also recognized Lt. Howard Black of the Colorado Springs Police Department with the University Police Award for Exceptional Service for his work with UCCS during two high-profile events in the past year. In July, then-presidential candidate Donald Trump held a campaign rally on campus. In January, Milo Yiannopolous held a speaking event on campus after being invited by two student groups.
Pino also thanked Colorado Springs Police Chief Pete Carey for providing officers and other resources for both events, noting there were no arrests or other incidents during either.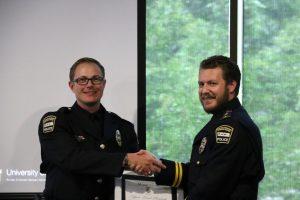 UCCS Officer Jerod Heidrick was recognized with the Police Commendation for Meritorious Service for researching ways to fund mobile computers in patrol vehicles. Thanks to his work, UCCS will receive an $18,860 grant later this year to purchase mobile computers and equipment.
A Unit Citation was given to the UCCS campus security team for its collaboration with the police department.
Pino also recognized 13 employees for their years of service to UCCS, which ranged from five years to 19 years.
UCCS police conducted more than 1,000 vehicle stops and 10,000 patrol checks last year. Officers spent nearly 300 hours on safety escorts, 8,000 hours on foot patrol and 4,200 hours on vehicle patrol, Pino said.