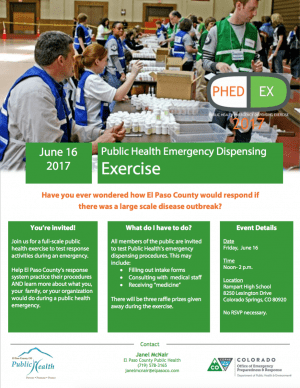 UCCS, in coordination with the El Paso County Public Health Department, will participate in a mock emergency medicine distribution exercise June 16 at the Gallogly Recreation and Wellness Center.
Beginning at 2 p.m., university staff members, including staff from the Physical Plant, University Police and Wellness Center departments, will practice the university's response during a community health crisis.
Staff will turn a basketball court into a mock clinic with the intent of testing emergency dispensing procedures such as filling out intake forms, consulting with public health staff and receiving "medicine."
El Paso County Public Health will also operate a similar exercise at Rampart High School, 8250 Lexington Drive. The exercises are occurring statewide as part of a statewide Public Health Emergency Dispensing Exercise, PHED Ex. CU Boulder will also work with its county health department as part of the statewide effort.
"This exercise is an important opportunity to identify training needs and areas where we can improve our preparations for a real emergency," Tim Stoecklein, program director, Emergency Management, said. "But it is important for everyone to understand that this is only practice."
Questions? Contact Stoecklein, 255-3106, or [email protected] or Stephanie Hanenberg, executive director, Wellness Center, 255-4444 or [email protected]
Updates will be posted at @PHEDex2017 and @EPCPublicHealth on Twitter, and www.elpasocountyhealth.org