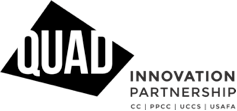 Students and recent alumni from four area colleges and universities will share ideas to resolve vexing community issues during Quad Innovation Partnership Demonstration Day scheduled for 9:30 a.m. to 12:30 p.m. Thursday, June 29 at the Cornerstone Arts Center, 825 N. Cascade Ave.
Teams whose members either currently attend or graduated from Colorado College, Pikes Peak Community College, the University of Colorado Colorado Springs and the United States Air Force Academy will present ideas to resolve energy demand, homelessness, transportation access, food insecurity and small business sales channel competitiveness.
The event is free and open to the public.
"These issues were selected for this year's program through collaboration with major community stakeholders," Jacob Eichengreen, executive director, Quad Innovation Partnership, said. "The teams spent a month designing, validating and prototyping a scalable solution to address major community issues."
Four Air Force Academy faculty members led the four-week Quad Innovation Partnership Summer Intensive Program. The program focused on helping students develop innovation and entrepreneurship skills related to specific opportunities in Colorado Springs.
Participants spent the first week identifying and understanding specific problems and building three- to five-person teams to develop solutions. In the second week, participants will use the Google 5-day Sprint process to rapidly incorporate feedback and provide direction. The Google-developed process led to Gmail and other innovations. In the third week, students will prototype solutions and collect feedback from community leaders. The final week focuses on validation and pitch development.
Throughout the program, participants also are able to connect with key community experts and practitioners. Some secure jobs directly from the program.
"The Quad created the right environment for me to build a foundation in Colorado Springs," Sage Vogt, a May Colorado College graduate, said.
Vogt secured a position with Borealis Fat Bike after connecting with the company's founder during the first week of the Quad Summer Intensive this year.
Through the Summer Intensive Program, and a suite of additional experiential learning opportunities and professional development experiences, the Quad Innovation Program hopes to incubate the next generation of community leaders and develop the opportunities to keep them in Colorado Springs.
The Quad Innovation Partnership is an initiative of Colorado College, Pikes Peak Community College, the University of Colorado Colorado Springs and the United States Air Force Academy to support innovation and career development in the Pikes Peak region. Unlike other entrepreneurship and innovation centers, which focus on incubating companies and technologies, the Quad Innovation Partnership incubates talent and leadership. The program is supported by the leaders of the four institutions, Jill Tiefenthaler, president, Colorado College; Lt. Gen. Michelle Johnson, superintendent, U.S. Air Force Academy; Lance Bolton, president, Pikes Peak Community College; and Venkat Reddy, chancellor, University of Colorado Colorado Springs.
For more information, visit QuadCOS.org.