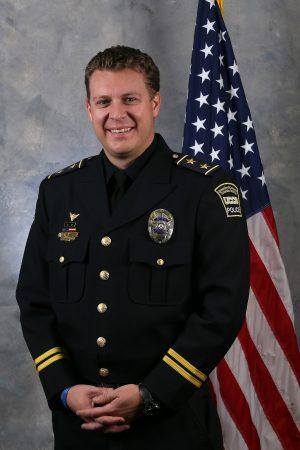 Following a regional search, Interim Chief of Police Marc Pino will lead the UCCS Police Department as its fulltime chief effective July 1.
Susan Szpyrka, senior vice chancellor, Administration and Finance, announced Pino's appointment June 13.
"After extensive consultation with Chancellor Reddy, other campus leaders, as well as department members and campus constituents, Marc Pino will lead the UCCS Police Department," Szpyrka said. "He will build on a proven track record of leadership, respect and community-based police work."
Szpyrka thanked the 12-member search committee chaired by Suzanne Scott, budget director, Resource Management Division, for its work, as well as campus community members who participated in finalist interviews.
In August 2016, Pino was named interim police chief following the resignation of Brian McPike.
Prior to serving as interim chief, Pino was a police lieutenant, sergeant, and corporal. He joined the UCCS Police Department as an officer in 2005. In 2016, he received the UCCS Garrett Swasey Outstanding Staff Award. In 2011, he received UCCS Police Department's excellence and meritorious service awards.
Pino earned a bachelor's degree from UCCS and will soon complete a master's degree in the School of Public Affairs.
"I am excited by the opportunity to continue to serve this campus," Pino said. "I am privileged to work directly with the outstanding men and women of the UCCS Police Department, the UCCS community, and our regional law enforcement partners."
 Related Posts
Police chief finalists to visit campus