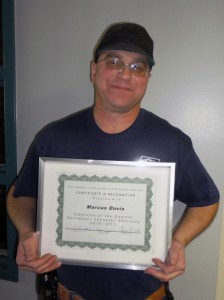 The two-word answer to plumbing emergencies at UCCS is "Marcus Davis."
That's part of the reason Davis, HVAC/plumbing supervisor, Facilities Services Physical Plant, earned Employee of Quarter honors this term. He's been the go-to guy for campus pipe and plumbing situations since Nov. 2004.
Dealing with plumbing emergencies is a dynamic example of Davis' continuing service to UCCS but he serves campus in a number of more low-key roles. In particular, he assists with campus rental property management and support. Researching and arranging appropriate repairs or new installations are among his expanded duties and are as vital to campus operations as his prompt attention to burst pipes.
His attitude is also a factor, according to Debbie Lapioli, executive assistant, Office of the Vice Chancellor for Administration and Finance. Lapioli nominated Davis for the award.
"Marcus is amazing," she said. "His great 'can do' attitude and incredible customer service have benefited numerous individuals and departments across our campus community. It is a pleasure to work with Marcus and he is truly worthy of this recognition."
"I'm grateful for this honor; this is a fun place to work," Davis said. "I was here at UCCS as a transfer student back in 1984. I never would have imagined I'd be working here one day, but life's full of surprises."
Davis is a master plumber, holding a number of professional licenses in areas related to building construction. He came to UCCS after 30 years as a contractor in the private sector. He is also a licensed plumbing inspector and for the past 15 years has instructed novice plumbers, helping them to earn their own licenses.
Davis consistently strives for excellence in performing his job duties, Lapioli said, and he always helps whenever needed throughout the department to complete projects or tasks.
"He is a willing worker who is eager to successfully fulfill job responsibilities and extra duties, especially during periods of departmental staff transitions," she said.
According to Lapioli, who is the coordinator of property, space and leases for UCCS, Davis' attention to the rental properties goes above and beyond normal duties. He ensures proper procedures are followed and greatly influences decisions regarding repairs and property management through timely updates.
In addition to prioritizing job duties while responding to unexpected emergencies needing prompt attention, Davis maintains a positive attitude and cheerful demeanor. This enhances his customer service skills, helps him keep a good rapport with people across the campus, and earned him a great deal of admiration.
"He's just an all-around great guy," said Deanna Ely, program assistant, Facilities Services, said. "He's not only a supervisor of, I think, seven maintenance people, but he works right alongside them. As a working supervisor, he does a lot more than just oversee operations."
Davis is also an animal lover with a number of pets at home.
Employee of the Quarter award recipients receive a certificate of recognition, a $100 stipend, three months free campus parking, and a day of administrative leave.