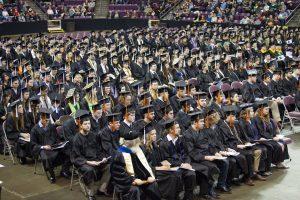 A record number of UCCS students will graduate this spring, as student speakers highlight two spring 2017 commencement ceremonies May 12 at Broadmoor World Arena.
The number of students expected to receive degrees this month is 1,532, with nearly 1,000 expected to participate in commencement ceremonies. Last May, 1,426 students graduated.
Doctoral, master's and baccalaureate degree students from the College of Letters, Arts and Sciences will graduate at a 10:30 a.m. ceremony. Mykinthia Ebron, recipient of a 2017 UCCS Student Achievement Award, will give the morning commencement address. Ebron, a first-generation student, plans to attend law school.
Students of the Helen and Arthur E. Johnson Beth-El College of Nursing and Health Sciences, College of Business, School of Public Affairs, College of Education and College of Engineering and Applied Science will graduate at a 2:30 p.m. ceremony. Nicole Chung, also a 2017 UCCS Student Achievement Award recipient, will speak at the afternoon ceremony. Chung, who enrolled in college as a single mother, plans to become a nurse, inspired after her mother was treated for breast cancer.
Attendees at the commencement ceremonies are expected to include University of Colorado Board of Regents members Kyle Hybl, Irene Griego, Glen Gallegos and Stephen Ludwig. Bruce Benson, University of Colorado president, is expected to attend the afternoon ceremony.
Live streaming on the day of commencement will be available at http://www.uccs.edu/commencement/index.html.
Spring graduates will join more than 43,000 UCCS alumni.