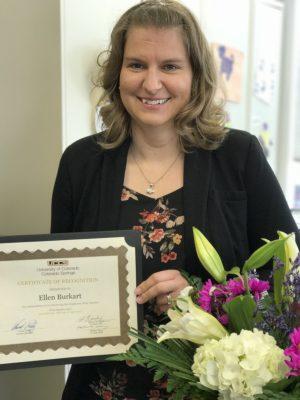 Even Ellen Burkart's dress has mountain lions on it.
Well, not mountain lions exactly. But mountain lion paw prints that are both a conversation starter and indicative of the pride possessed by the Employee of the Quarter for 2017's first quarter.
Burkart, director of first year experience and parent-family programs, Student Retention and First Year Experience Office, is proud of UCCS and considers her colleagues "part of her family." That familial approach is one of her keys to success.
"Ellen strives to build a sense of team and belonging, making sure that every person from student staff, to administrative staff, to student success staff feels significant," Karen Bisset, program manager, Student Retention and First Year Experience Office, wrote in a nomination letter. "Ellen tries to remember everyone's birthdays, often suggesting an office potluck to celebrate."
As director of parent and family programs, Burkart engages parents of students as part of an overall retention strategy. She regularly communicates with parents, works directly with students, oversees Parent and Family Weekend, assists with New Student Orientation and led the implementation of an alert system that faculty can use to warn both students and support staff of impending academic failure.
"Parents of first-year students are keys to retention," Burkart said. "The more we support both our parents and students along this journey, the more likely we are to achieve both the university's and that family's goals – a student who graduates."
In her communication, Burkart highlights campus services, everything from physical and mental health services to advising, career counseling and academic support.
"When that student calls home and says he can't handle it, that parent needs to know we're here — and so are of lots of other people who want their student to succeed," Burkart said. "We will help."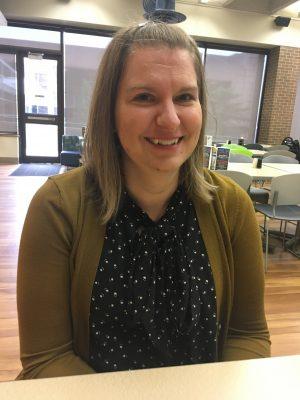 Burkart helped launch the early alert system Starfish. The system allows faculty members to alert students, academic advising and student retention staff when a student is struggling. Through the alerts, staff can coach students how to improve performance or, as a last resort, the process to drop a course. The program is directed at students enrolled in GPS and 1000-level courses most often taken by freshmen, although faculty teaching any undergraduate, main campus course may submit alerts.
"You have to put in more than 40 hours a week at UCCS," Burkart said when asked to provide advice to others. "The people who do well are adaptive and committed."
And occasionally wear a mountain lion dress.
In recognition for her efforts, Burkart received a certificate, a day of administrative leave, $100 stipend, three months of free and reserved campus parking and a $40 voucher at the UCCS Bookstore.
Know someone who goes above and beyond? For more information about nominating a staff member as Employee of the Quarter, visit http://www.uccs.edu/staff/employee-awards/employee-of-the-quarter.html