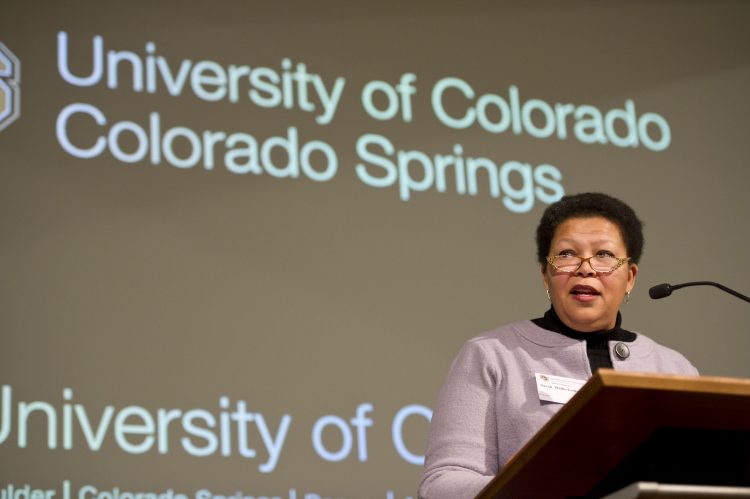 A presidential election marked with racial, religious and gender denegration can provide inspiration for the work of diversity and inclusion in society and on college campuses, Sarah Willie-Lebreton, professor of sociology, Swarthmore College, said Monday at the CU Diversity Summit.
Willie-Lebreton was the keynote speaker at Monday's University of Colorado Diversity Summit, held this year at UCCS.
"The anecdotes from my own life experiences of racial disrespect over the last year are too numerous to list," she said. "The incidents themselves are remarkable not for their ubiquity but for their reappearance in what I am calling polite or educated society."
People who are vulnerable because of their color, gender, immigration status, neighborhood, language or religion – especially those with multiple identities – may have felt disrespected before the November election, she said.
"What is new is something that should simultaneously make affluent society, polite society, middle-class self-congratulatory society, at once ashamed for having not taken the structural and emotional elements of injustice and inequality seriously and at the same time inspired to fight for everyone now that there is no doubt that we have very serious work to do," she said.
That work, she said, is educational, spiritual and practical.
"It is time to get woke," she said to applause from the summit attendees in Berger Hall.
Willie-Lebreton described a higher education system in this country that is, as she said, "at the nexus of competing and sometimes unreconcilable challenges."
She described the simultaneous calls for colleges and universities to divest themselves from fossil fuel investments while also curtailing increases in tuition. She noted that faculty members are expected to excel at teaching, service, research as well as publication. Federal government support for research is uncertain, even as state regulatory compliance issues are growing.
Naming these challenges helps clarify goals and celebrate successes, she said.
Willie-Lebreton is the editor and co-author of a collection of essays, "Transforming the Academy: Faculty Perspectives on Diversity and Pedagogy," published last year.
She said studied the University of Colorado system in preparation for her keynote address. She praised the CU system for its growing Latino student population but suggested that recruiting and retaining a diverse faculty – especially focused on African Americans and Native Americans – is needed. And greater diversity is needed among the system's elected regents, its chancellors and its senior leadership, she said.
"I have come to appreciate the work in which you all are engaged to transform your campuses to be more diverse and representative in terms of race, class, culture and nation of origin," she said. "Make no mistake: To foster a culture of inclusion, to sponsor and undertake science, to model the exchange of ideas and constructive conflict on campus and off will demand perseverance, clarity and deep commitment."
The CU Diversity Summit's title this year was "Fostering a Culture of Inclusion: Modeling System Change." The summit featured a panel discussion with the chancellors from each of the CU campuses and a session with the chief diversity officers from each campus. Topics for other sessions included cultivating inclusive leadership, best practices in promoting diversity, equity and inclusion in libraries, inclusive and accessible teaching practices and navigating difficult conversations on diversity and inclusion. Stephany Rose, associate professor, Women's and Ethnic Studies, chaired the summit planning committee.