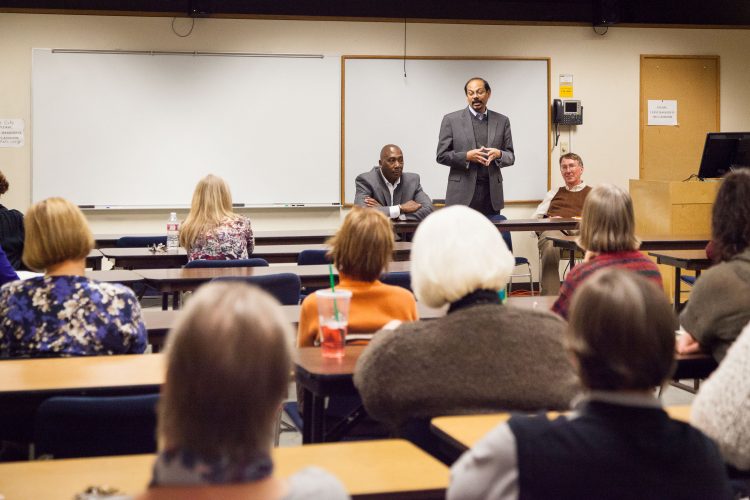 Respect, compassion and safety will be cornerstones of the campus culture that Venkat Reddy said he plans to cultivate as he settles into his new role as interim chancellor.
Reddy, who assumed the post on Feb. 16, outlined his vision during a series of information sessions in various campus locations Feb. 28 and March 1. He was joined in the sessions by Tom Christensen, provost-elect, and Sentwali Bakari, vice chancellor for student success.
"We are at a really important crossroads," Reddy said at the second of four meetings.
He stressed that the campus cannot "hit the pause button" now, following the Feb. 15 retirement of Chancellor Emerita Pam Shockley-Zalabak.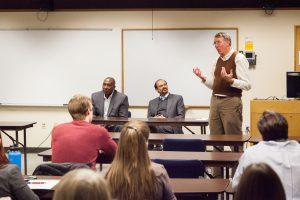 Reddy highlighted several near-term priorities, including the January opening of the Ent Center for the Arts, growth of online programs and development of the new National Cybersecurity Center, of which UCCS is a partner, and the new William J. Hybl Sports Medicine and Performance Center.
Christensen will become provost July 1. He joined the Physics and Energy Science Department in 1989 as an assistant professor and has served in a variety of roles at UCCS.  Bakari joined UCCS in October 2016.
A search for a permanent UCCS chancellor is underway. Bruce Benson, University of Colorado president, has said that he hopes to name a chancellor by July 1.