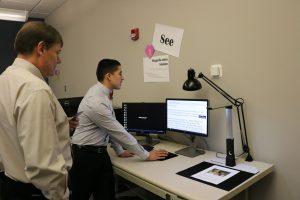 An expanded, relocated Assistive Technology Lab is now open in the Kraemer Family Library, in an effort to make the technology and tools more accessible to students.
The lab will help accommodate the 5 percent of the student body who have identified themselves as having a disability. About 150 people attended last week's grand opening.
The lab originally opened in 2001 as a donation from Dona Hildebrand. That lab was located in what's now an office space. Advancements in technology and the growth of Disability Services prompted the move to the new location, EPC 238.
"The collaboration between the information technology and disability departments has been huge, it helps provide more access to students by having a more efficient process," said Ida Dilwood, director, Disability Services.
The Assistive Technology Lab consists of five student stations, all equipped with raisable tables, adjustable chairs, task lights and computers.  The computers have assistive technology software installed, including JAWS, Read & Write, Zoomtext and Dragon Naturally Speaking. The lab team uses such specialized equipment as a high-speed scanner, a Braille embosser and a thermoform printer.
At the open house, the lab was set up to highlight four areas of assistance: See, Speak, Touch and Read.
See: Students using this technology can magnify text, change the background color, and have text read aloud.
Speak: This station was equipped with Dragon Naturally Speaking software, which allows students to speak and then have their words typed into a document simultaneously.
Touch: This station offered Braille readings, abrasive maps and diagrams.
Read: This station illustrated the process used to create an e-edition of a textbook that isn't available online. The book is taken off its binding, scanned into the computer, then read line-by-line to ensure the scan was successful.  If needed, a Braille printout or tactile diagram can be created. Students also can use assertive technology software to magnify the text, change the color of the screen, read the text aloud, highlight and re-organize it.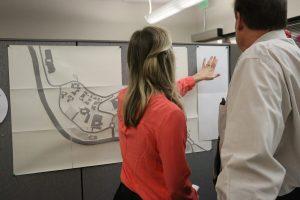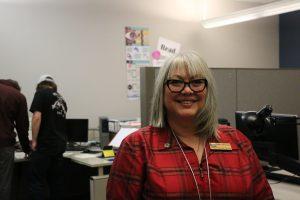 The lab assists the 873 students who are registered with Disability Services, said Leyna Bencomo, assistive technology specialist, Information Technology. Bencomo hopes to increase awareness about the accommodations available to students through training and consultation.
"I enjoy helping faculty members design their courses in a more inclusive manner for those who think and learn differently," Bencomo said.
Most computers on campus are equipped with Read & Write Gold. This software is accessible for anyone on campus, and has a variety of features, including translation, text-to-audio conversion and more. Disability Services will host training on Read & Write Gold at 11:30 a.m. March 9 and 10.
To learn more about assistive technology, contact Leyna Bencomo: [email protected]
-Photos by Savannah Waggoner