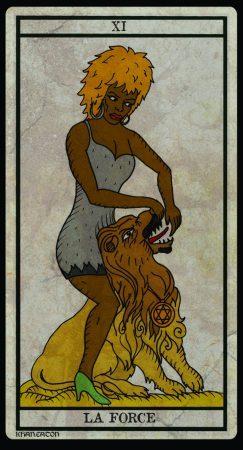 The UCCS Black Student Union, MOSAIC and the Gallery of Contemporary Art will recognize Black History Month with three upcoming events.
Ongoing through Apr. 1, GOCA 121, 121 S. Tejon St., Suite 100
A showcase of 26 individuals that persevered through eras of racism and persecution is presented by artist Arish Ahmad Khan, also known as King Khan, in the form of giant tarot cards. The exhibit also showcases the documentary film, "The Invaders," named for a group of activists from Memphis in 1967. Founding member John B. Smith attended the opening night. Students, staff and faculty are encouraged to view the exhibit, free of charge, located downtown at GOCA 121.
Feb. 20, 6 p.m., Dusty Loo Bon Vivant theater, University Hall
Idris Goodwin, Rhiana Yazzi and Aaron Carter discuss issues of race representation on stage as three leading playwrights of color. The event is free of charge.
6-8 p.m., Feb. 21, room 302, University Center
MOSAIC hosts this event to recognize the contributions of Martin Luther King, Jr. and to serve as a setting for students to discuss diversity through expressive forms such as poetry, live readings, and speeches. The event is free of charge and students, staff and faculty are invited.
The Black Student Union hosted "Blast from the past" Feb. 6 in Berger Hall. The event highlighted the successes and challenges of African-Americans who contributed to academic and cultural diversity.
"It was a lively flow of students," said Kee Warner, associate vice chancellor for inclusion and academic engagement, Academic Affairs.
Since 1926, the month of February has been designated as Black History Month to honor the contributions and successes of African-Americans.
For more information about any of the events listed, contact the MOSAIC office,  (719) 255-3319.