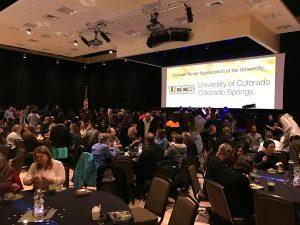 To the Campus Community,
I want to express my appreciation to the many students, faculty and staff who attended last evening's Campus Appreciation Reception in Berger Hall. It was a wonderful display of the values we hold dear at UCCS – inclusivity, community, civil behavior – and great food.
I apologize that I was not able to attend the reception in person. As many of you know, I was on the west side of campus speaking with the protestors who gathered near the Upper Lodge for the student-sponsored speaker event. I was there also to express my support and appreciation to the UCCS law enforcement officials and others who worked to keep the attendees of the speaker event, as well as the protestors, safe. Everyone who was involved in the planning of that event can be proud.
I am sharing a link to a video that was shown at the Campus Appreciation Reception. I encourage you to watch it and be as inspired as I was. The students, faculty and staff members who appear in the video express both our aspirations as campus and what I believe we accomplish daily. I offer my special thanks to Andrea Cordova, Caitlin Green, Kelsey Hunt, and Jeff Dempsey for producing the video.
With gratitude,


Pam Shockley-Zalabak
Chancellor