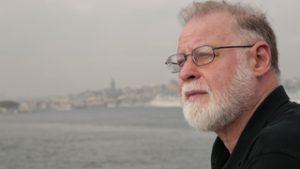 A Feb. 2 event featuring author Alberto Manguel's "The Library at Night" will highlight the valuable role the Kraemer Family Library plays not only as a place of study but as a place of discovery.
Beginning at 6 p.m., Martin Garnar, dean, Kraemer Family Library, and author Alberto Manguel will host a book discussion. UCCS students, faculty, staff and guests are encouraged to attend to meet the author.
Colin McAllister, music program director, Visual and Performing Arts Department, has curated a recital to accompany Manguel's story that will begin at 7:30 p.m. The presentation will weave narrative with an engaging musical performance. McAllister curated the event with the purpose of touring across the country. The first performance took place in San Diego in March 2016, where McAllister lived prior to moving to Colorado Springs. After the Feb. 2 performance, McAllister will perform in La Jolla, California, and is also scheduled to perform in Broomfield.
When asked how the idea came to him, McAllister responded, "I am always looking for ideas on how to program concerts with themes alongside. I discovered this book several years ago, it is really a celebration of libraries and the value they have. It illustrates the Library as Space (architecture), the Library as Absence (banned books), the Library as Imagination. I am a huge champion of literature and I wanted to structure music around the story Alberto created."
As library dean, Garnar was attracted to the multidimensional way in which Manguel depicted the library.
"The Library at Night" is a collection of essays," Garnar said. "I think that each essay brings a different lens to the role that the library plays not only in society, but in the life of the individual. It's a history of what libraries have been, what they could be and should be."
The Kraemer Family Library donated 25 copies of the book to students who participated in a lottery drawing, encouraging students to attend.
Details:
Thursday, Feb. 2
6 p.m.: Discussion with Dean Martin Garnar and author Alberto Manguel
7:30 p.m.: Concert with Colin McAllister and Alberto Manguel
Location: Kraemer Family Library, 3rd floor Apse
Free, no registration is necessary. UCCS students, staff, faculty and guests are welcome. Read more here.