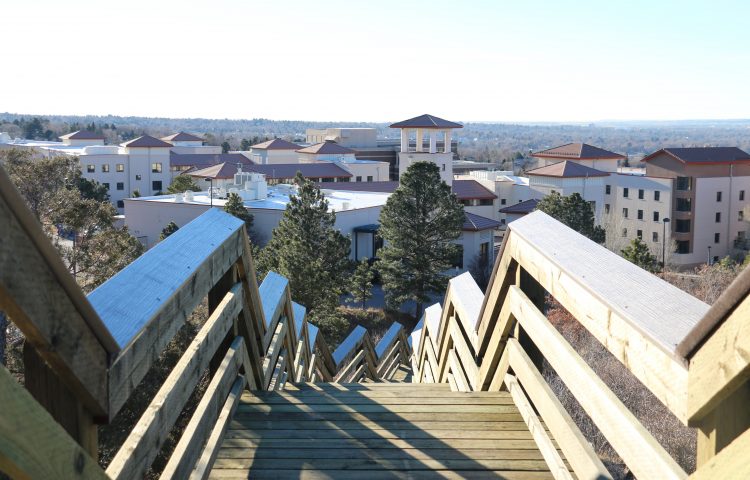 A popular hiking trail connecting Alpine Valley Student Housing with main campus reopens Jan. 17. Construction for the Sherpa Trail has been underway since the beginning of November.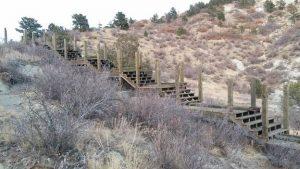 Heavy summer rains caused the trail to close in August. It was closed indefinitely, pending funding, design, and construction plans.
A $50,000 grant from the Green Action Fund was used to repair the degraded trail. Funding was split between trail construction and signage. The Green Action Fund is directed by a student committee, which reviews and funds projects from students, faculty, and staff to improve sustainability on campus.
The renovated trail consists of a series of steps formed with timbers and crushed granite, as well as a raised, stepped decking system to cover some of the steeper, more erodible portions of the trail.
"The trail will allow for a safer and more environmentally sustainable path that provides a recreational trail connection between Alpine Valley and main campus," said Matt Gaden, associate director of operations, Campus Recreation.
Faculty and students in the Geography and Environmental Sciences Department helped design the new trail signs. These highlight local wildlife, geology, history and views from the trail.
The Sherpa Trail will be renamed as the Tava Trail.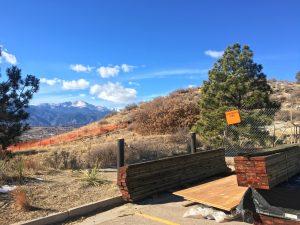 Gaden said, "Tava is an Ute Indian term that means sun and was the name that they referred to what we now call Pikes Peak, which they referred to as Tava Mountain (Mountain of the Sun)."
A survey was distributed to students and trail users to determine possible name themes for the main campus trails. Moving forward, central trails will be named using Native American terms.
If interested in volunteering to maintain campus trails, please contact S.O.L.E. at [email protected] or (719) 255-7517.