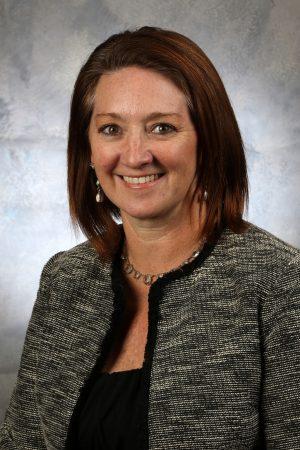 A personnel professional with extensive experience in the military, and who previously served as assistant director, is the new executive director of the Human Resources Office.
Anja Wynne, currently senior program and policy manager, Administration and Finance, will begin as executive director Jan. 17. She was selected following a national search. Her appointment was announced Jan. 6 by Gayanne Scott, assistant vice chancellor for finance and human resources, Administration and Finance Division.
"Dr. Anja Wynne will be an excellent human resources director for this campus," Scott said. "She has been widely involved in many campus, community and university initiatives and brings a proven track record of excellent skills and leadership."
Wynne joined UCCS as assistant director Human Resources Office in 2013. In that position, she helped improve UCCS search processes and represented the campus on the CU Elevate project. In 2016, she was named senior program and policy manager for the Administration and Finance Division. In addition to her professional roles, Wynne served as vice president of the University of Colorado Staff Council, as a member of the advisory board for the UCCS Matrix Center UCCS, and as an instructor for both the Gateway Program Seminar and the School of Public Affairs. She also served as chair of the Colorado Springs Human Relations Committee and the steering committee for Mental Health Begins with Me, a state mental health initiative.
Before joining UCCS, Wynne served in human resources positions for the United States Air Force where she attained the rank of lieutenant colonel, and with a German company.
She earned a bachelor's degree from James Madison University, Harrisonburg, Virginia, a master's degree from Boston University and a Ph.D. from the University of the Rockies, Denver.
"I look forward to returning to the HR team," Wynne said. "During the six months I worked for the senior vice chancellor for administration and finance, I increased my knowledge of campus operations, the intersection of policy and budget, and the long range goals of UCCS. I feel confident this knowledge will add value to the human resources operations."
Scott thanked Susan Watson, associate director, Office of Human Resources. Watson has served as interim director of the Office of Human Resources since October following the resignation of Jeanne Durr, who had directed the department since 2013. Watson will return to her associate director position. Scott also thanked the members of the search committee for their efforts.
The search committee members were: committee chair Greg Krems, financial and operational assistant, Information Technology Department ; Watson; Rob Dougherty, senior executive director, Physical Plant Office; Shannon Cable, assistant director, Financial Aid and Student Employment Office; Regina Winters, senior instructor, School of Public Affairs; Jugal Kalita, professor, College of Engineering and Applied Science; and Amanda Elder, associate professor, Helen and Arthur E. Johnson Beth-El College of Nursing and Health Sciences.