Two UCCS police officers are traveling to Detroit, Michigan this week to attend the funeral services of Collin Rose, a Wayne State University police officer who was killed in the line of duty Nov. 23.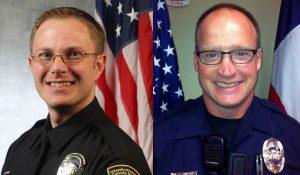 Officers Craig Ginter and Jerod Heidrick will attend the public visitation for Rose on Nov. 30 and a Dec. 1 funeral service. The officers are driving to Michigan in a UCCS police vehicle and will participate in the law enforcement procession as part of the funeral service, said Marc Pino, interim chief, UCCS police.
Five Wayne State police officers attended services last year for UCCS officer Garrett Swasey, who was killed in the line of duty on Nov. 27, 2015. Swasey was the second university police officer killed in the line of duty. Massachusetts Institute of Technology officer Sean Collier was shot in his cruiser in 2015 by the Boston Marathon bombers.
"We wanted to send some representatives to be there for the funeral and to represent our department," Pino said.
This will be the first time the UCCS police department has sent officers to an out-of-state service for a law enforcement officer, Pino said. UCCS police will attend the services later this week of Cody Donahue, a Colorado State Patrol trooper who was killed Friday while investigating a crash on Interstate 25 near Castle Rock.
Rose, 29, was shot in the head while trying to arrest a man he suspected in thefts of navigation systems from vehicles near the Wayne State campus. Wayne State police are also sworn Detroit police officers, according to Detroit news media reports.