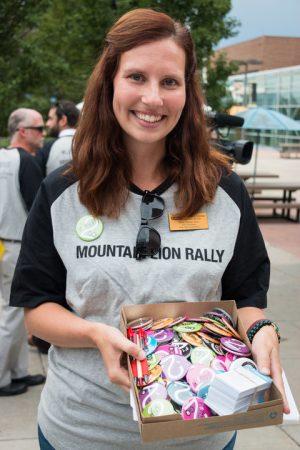 Were you "First2Go?"
If so, Stacy Carosa has a button for you to wear, and a message she hopes you'll carry to help first-generation students succeed at UCCS: "They are not in this journey alone, and that they do belong here."
Carosa, coordinator, Office of First Year Experience and Transfer Student Connections, recently launched a new program and retention initiative called First2Go for incoming first-generation students (those who are first in their families to attend a four-year university).
The idea, she said, is to build a community of support for these students. The buttons, to be worn by faculty, staff and other students, or displayed on a backpack or office, offer a quick way for students to identify who on campus was, like them, a first-generation student.
Kelli Klebe, associate vice chancellor, Research and Faculty Development, is wearing a First2Go button. (She is not, as a few have joked, leaving the university).
She was the first in her family to attend college, and among only a handful in her large extended family to earn a degree. She said she hopes more faculty and staff will back the program, too, and that students will talk with faculty and staff members they see with a button.
"I support it because I think all students need support, but first-generation students may not have that at home," Klebe said.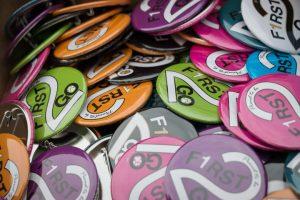 The First2Go program will host an Aug. 23 meet-up to connect first-generation students, staff and faculty. The event will be 4-6 p.m. at University Center room 303. Learn more and RSVP here.
Email Carosa to get a button – or look for her passing them out at campus events.
For information on the program, click here.