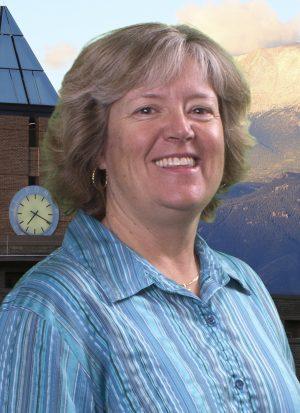 A respected leader with more than 20 years in collegiate athletics will be the next senior associate athletic director for UCCS.
Sandee Mott, currently the athletic director at Johnson and Wales University, Denver, will start Aug. 22 in a return to NCAA Division II and Colorado Springs. She will also assume the role of senior woman administrator for the UCCS athletic department.
"I would like to thank Director of Athletics Nathan Gibson for the tremendous honor of joining his team," Mott said. "It is easy to see the growth of both the University and the athletic department in recent years and I look forward to the opportunity to be a part of the excitement and energy on campus and contributing to advancing the vision and mission of UCCS."
Mott oversaw an expansion of the athletic program at Johnson and Wales in the last four years. The Wildcats added seven programs as a member of the NAIA, moved all head coaches to full-time status and added two full-time athletic trainers. She implemented a corporate partnership program, a booster club and camp program. Mott served on the NAIA National Administrative Council and the Association of Independent Institutions Executive Committee.
Mott was previously the associate director of athletics at Metropolitan State University of Denver from 2009 through 2012, where she had direct oversight over men's soccer, women's basketball and baseball. She served as the chair of the NCAA Division II Women's Basketball National Committee. Mott oversaw the department's compliance program and served as the administrator on-site for multiple conference and NCAA postseason events.
Mott spent four years as the associate commissioner for the Rocky Mountain Athletic Conference from 2005 through 2009, where she oversaw compliance and business operations and interacted with every constituent group in the conference. She implemented the RMAC officials evaluation program in coordination with the seven sport coordinators and 500 officials who worked conference events. Mott also oversaw the organization and execution of RMAC championship events and was the co-host for the RMAC Radio Show.
Mott was the assistant athletic director and senior woman administrator at Western State Colorado University from 2001 through 2005, and also served as head women's basketball coach and adjunct instructor from 2000 through 2005. She coordinated and started the Western State Student-Athlete Advisory Council and served on various departmental and campus committees while managing the women's basketball program.
Mott was the head women's basketball coach and adjunct instructor at Montana Tech University from 1996 through 2000, and was the head coach at Saint Mary College in Leavenworth, Kan., from 1993 through 1996. She earned her bachelor's degree in English education from Friends University of Kansas in 1991 and her master's degree in English from Fort Hays State University in 1997.
"Sandee's experience and leadership in collegiate athletics, and her experience with Division II, will make her a great addition to campus," said Athletic Director Nate Gibson. "Her relationships with UCCS, the RMAC, the region and with staff members at the NCAA will be a valuable resource for our campus and our department as we continue to expand."