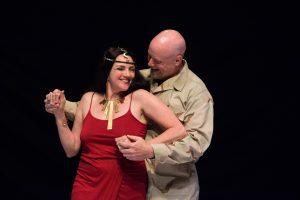 Celebrity lovers of the ancient world will rock the Roman Empire this summer in the Theatreworks production of Antony and Cleopatra by William Shakpeseare, at Rock Ledge Ranch July 28 – Aug. 20, 2016.  Shakespeare's thrilling, rarely performed epic drama features two charismatic titans who choose a love that ultimately costs them their lives. The play is surprisingly comic, often mysterious, always beautiful and finally both triumphant and tragic.
"It's one of Shakespeare's very greatest plays – which means it's one of the best things ever written, period," said Murray Ross, director. "It's the greatest middle-aged celebrity love story of all time – which means it is messy, glorious, foolish, profound and ultimately transcendent."
Tracy Hostmeyer, last seen at Theatreworks as the goddess Venus in Venus and Adonis, returns to play Shakespeare's exotic Egyptian Queen of infinite variety—a woman of passion, temper, cunning, sensuality and grace. James Keegan plays Antony, a role he recently performed at the American Shakespeare Center in Virginia. Kyle Steffen is Octavius Caesar, Antony's rival and imperial nemesis.  A cast of 18 is on hand to fill out Shakespeare's most sweeping drama of love and power.
The production will play in a larger tent than pervious summers, giving more space and protection to players and audience alike.  Audiences will be treated to festivities before the show begins.
Harvy Santos flies in from London to create the costumes, Vance McKenzie and Jason Ducat  design the light and sound. Jerry Ditter is responsible for setting the play in the Roman Empire.
Read more on the play from Murray Ross here.
Read more on the 2016-2017 Theatreworks season here.
ANTONY AND CLEOPATRA plays nightly at 7:30 p.m. Tuesdays through Saturdays, July 28 – Aug. 20, at Rock Ledge Ranch in Colorado Springs. Seating is limited in the intimate 180-seat tent, and reservations for the popular festival are strongly recommended. For tickets and further information visit www.theatreworkscs.org or call the box office at 719-255-3232.
Theatreworks is seeking volunteer ushers. volunteer ushers. Ushers will receive a free ticket to see the show the night they volunteer. To sign up: https://www.surveymonkey.com/r/ZYLSF9G
 LOCATION | Rock Ledge Ranch Historic Site
3105 Gateway Rd, Colorado Springs, CO 80904
 http://rockledgeranch.com/
TICKETS | Reservations are strongly advised
Reserved: $30-42
Children under 18: $20 (Children under 5 years old will not be admitted)
SPECIAL EVENTS:
PARTY ON THE GREEN
Bring your blanket and picnic dinner (or buy dogs and ice cream from Margo's Vienna Station) and enjoy entertainment in the park nightly beginning at 6:30 pm. There is no cost to come early and enjoy our roving performers–dancing, magic, stories and jokes will create a true sense of merriment and revelry around this production.
 PROLOGUE LECTURE: Murray Ross and Kevin Landis
Sat, July 30 at 6 pm in the festival tent at Rock Ledge Ranch
A preview of Antony and Cleopatra and the exciting season of ideas and lectures. Kevin and Murray lead a discussion in our festival tent.
FREE, reservations required.
PROLOGUE LECTURE: Jeffrey Horowitz
Sat, August 13 at 6 pm in the festival tent at Rock Ledge Ranch
Shakespeare in America: the legendary head of New York's Theatre for a new Audience discusses his lifetime of experience directing Shakespeare.
FREE, reservations required.
FIRST FRIDAY TALK BACK
Friday, July 29 immediately following the performance.
Photo by Isaiah Downing