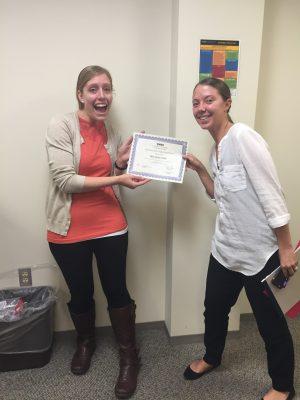 Shannon Cable, assistant director, Office of Financial Aid and Student Employment, is a problem solver, has a positive attitude and can always be counted on to stay late to ensure a job is completed.
That's why Cable, a staff member since 2004, was recently named Employee of the Quarter.
"She (Cable) exemplifies quality leadership," Mary Hurless, business and human resources professional, College of Engineering and Applied Science, wrote in a nomination letter. "I used to think she had access to a secret pool of excellent employees but I now know they are a testament to her leadership abilities."
As assistant director, Cable leads an office responsible for ensuring that the more than 1,600 student employees at UCCS are hired, trained, evaluated and paid for their work. Payment as the university transitioned to a new computer system has recently proven challenging.
"Shannon has gone above and beyond, working very late hours and getting to work early in order to ensure that students are able to be paid on time," Rebecca Stevens, student employment counselor, Office of Financial Aid and Student Employment, wrote in her nomination. "In the early stages of the HCM transition, Shannon was supposed to be on vacation for Christmas and instead she was working to ensure all student employees received their checks."
Stephens also cited Cable's ethics, positive attitude and student focus as exemplary, noting that her behavior strongly influences those around her.
Cable began her UCCS career as a student employee in the office she now directs. She held various positions before accepting responsibility for the department in 2010.
In recognition for her efforts, Cable received a certificate, a day of administrative leave, $100 stipend, three months of free and reserved campus parking and a $40 voucher at the UCCS Bookstore.
Know someone who goes above and beyond? For more information about nominating a staff member as Employee of the Quarter, visit http://www.uccs.edu/staff/employee-awards/employee-of-the-quarter.html or contact Alejandro DeJesus, assistant director, University Center,  [email protected], or Kristy Hignite, program assistant, Facilities Services, [email protected].