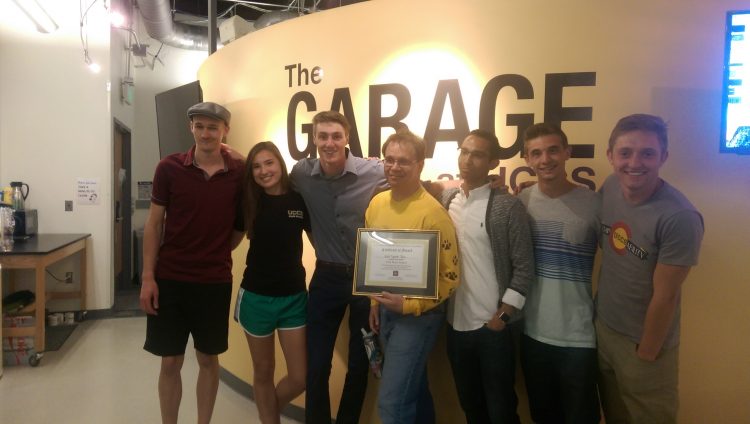 A team of current and former UCCS students took top prize in a California university's business plan competition with their idea to improve parking lot efficiency.
Lot Spot, Inc., the company developed by the UCCS team, earned first place honors in the Chapman University California Dreamin' Entpreneruial Conference and Competition April 23. The competition drew 30 universities from throughout the nation.
As a result of its win, the seven-member team received a $75,000 investment from IOC Ventures, a California venture capital firm, a $7,000 scholarship from Draper University and $5,000 cash.
The team was guided by Terry Boult, El Pomar Endowed Chair of Innovation and Security, and other faculty in the Bachelor of Innovation degree program. The UCCS El Pomar Institute for Innovation and Commercialization sponsored the team and paid some travel expenses.
Lot Spot began in 2014 when each of the seven members contributed $600. Later, they received a $2,000 grant from the campus Green Action Fund and installed cameras and computers at a campus parking garage. Students used the information generated and posted on a website to find an open parking spot. Lot Spot recently won a contract from the City of Manitou Springs and hopes to expand its product.
Team members are:
Hunter Berge, a former UCCS student from Colorado Springs
Jessica Garrett, a Windsor sophomore studying business as part of the Bachelor of Innovation program
Preston Hare, a Colorado Springs senior studying business as part of the Bachelor of Innovation program
Matt Keith, Colorado Springs, a local software developer
Connor McCormick, a Lakewood junior studying marketing and business as part of the Bachelor of Innovation program
Josh Vanderbilt, a former UCCS student from Colorado Springs
Evan Williams, a Colorado Springs junior studying business as part of the Bachelor of Innovation program
For more information about the competition, visit https://blogs.chapman.edu/press-room/2016/04/27/chapman-universitys-california-dreamin-entrepreneurial-conference-and-competition-draws-30-universities-from-across-the-nation/
— Photo by Rhea Phaneuf, EPIIC