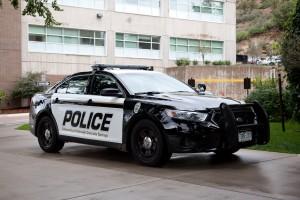 When word of the death of an Park County Sheriff's officer reached the UCCS Police Department Wednesday, campus officers in the department knew they needed to help.
Two UCCS officers quickly volunteered to make the 90 minute drive west to Bailey and support the Park County Sherriff's Office.
It was the right thing to do, according to Brian McPike, chief, Police Department.
"Unfortunately, we know what it's like to lose someone in a small department," McPike said. "We felt like we were uniquely qualified to offer peer support."
On Wednesday, eight officers from the Park County Sheriff's Office served a "high-risk" eviction notice on 58-year-old Martin Worth.
Worth is accused of firing on the officers, killing Corporal Nate Carrigan, a 13-year veteran of the sheriff's office, and seriously wounding Master Patrol Deputy Kolby Martin. Another officer was treated for minor injuries and released.
McPike chose not to identify the UCCS officers who responded to Park County, saying it was an effort of the entire department to support Park County.