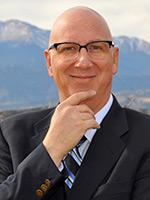 Memorial services for Michael Hackman, professor, Department of Communication, director of the UCCS Honors Program and adviser for Leadership Studies, are scheduled for noon March 6 at Berger Hall.
Hackman, a member of the faculty since 1985, died Feb. 24 following a lengthy battle with cancer. A donation page has been established at giving.cu.edu/hackman.
Hackman's family published an obituary in the March 2 edition of the Colorado Springs Gazette. It follows.
Michael Zane Hackman

April 6, 1960 – Feb. 24, 2016

After a four year battle with cancer, Michael Zane Hackman passed away on Feb. 24, 2016 in Colorado Springs, CO at the age of 55. He leaves behind his wife, Stephanie (Robin) McCraken-Tirey; his daughters Aubrey Hackman and Jane Hackman Schultze and her husband Brandon Schulze; son Zachary Hackman; mother Anita Hackman; and step children Brandon Tirey, Chase Tirey, and Savannah Tirey.

Michael was born on April 6, 1960 in Queens, NY to Anita Hackman and Sydney Hackman, who predeceased him. He attended Thomas B. Doherty High School in Colorado Springs, participating in many scholastic activities with hopes of one day becoming a journalist. He attended the University of Colorado Colorado Springs receiving a Bachelors Degree in Communication. He found education to be his true calling and went on to complete both a Master's and Ph.D. in Communication from the University of Denver, with high hopes of returning to the world of academia as a professor. He achieved this goal and became a professor at the University of Colorado Colorado Springs where he worked for 31 years teaching in the Communication Department while overseeing both the Leadership Programs and the Honors Program. He also taught at the University of Waikato, in Hamilton, New Zealand, in the Department of Management Communication in addition to participating as an Adjunct Professor in many Universities around the world. In addition to his career as a professor, Michael was also a Leadership Consultant working to inspire leaders to be more effective in their roles and improve organizations as a whole.

Michael is known throughout the world as a beloved professor, excellent author, and skilled leadership consultant. He has touched many lives with his quick wit, knowledge, caring spirit, and true love for his work and family. He will be remembered for generations to come by those who have been inspired by him and will leave behind a legacy that will not soon be forgotten. The University of Colorado Colorado Springs has also establishing a scholarship endowment to honor Michael's legacy so that future generations of students may continue to be inspired by the memory of Dr. Michael Hackman.

A memorial will be held at the University of Colorado Colorado Springs on Sunday March 6, 2016 in Berger Hall at 12:00 PM with reception to follow; all are welcome.

In lieu of flowers, the family requests that donations be made to the American Cancer Society to honor Michael's Memory.
Chancellor Pam Shockley-Zalabak issued the following statement about Hackman's death:
Feb. 25, 2016
To the Campus Community:

It is with great sadness that I share the loss of a longtime member of our campus community.

Michael Hackman, professor, Department of Communication, director of the UCCS Honors Program, and adviser for Leadership Studies, died Feb. 24 following a lengthy battle with cancer.

Dr. Hackman joined UCCS in 1985 after earning master's and doctoral degrees from the University of Denver and was a true UCCS product, having earned his bachelor's degree from UCCS in 1982.

He was an award-winning teacher and respected scholar whose research appeared in journals such as Communication Education, the Journal of Leadership Studies and the Southern Speech Communication Journal. He is the co-author of three books and provided executive coaching services for more than 400 public and private sector organizations in the U.S., Canada, Asia, Australia, Europe and the Middle East.

A campus memorial service is planned for March 6 at 12 noon in Berger Hall.

We are in contact with Dr. Hackman's family and both the family and colleagues at UCCS are establishing a leadership scholarship in his honor.

Please join me in offering condolences to the family, friends and many long-time colleagues of Dr. Michael Hackman.

Respectfully,


Pam Shockley-Zalabak