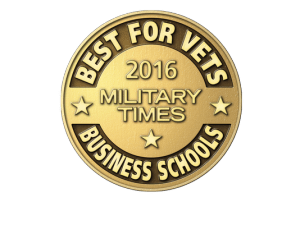 The editors of Military Times recently ranked the UCCS College of Business a "Best for Vets" business school.
On Feb. 8, the Military Times editors published rankings showing the UCCS College of Business 37 among 180 public and private universities in the nation. Factors used in the rankings included university culture, student support, academic outcomes and quality, academic policies, cost and financial aid. This is the third year the college was recognized.
For a complete listing of ranked colleges, visit http://bestforvets.militarytimes.com/business-schools/2016/
To compile the rankings, the organization comprising Army Times, Navy Times, Air Force Times and Marine Corps Times used an 80-question analysis of a school's complete offerings for veterans.
"We appreciate the recognition of our efforts to help veterans achieve their goals through university education," Phillip Morris, director, Office of Veteran and Military Student Affairs, said. "We take pride supporting veterans holistically and are gratified that our own College of Business is recognized as outstanding when it comes to serving military members and veterans."
The rankings are published in the February issue of Military Times EDGE magazine, and online at MilitaryTimes.com, as well as ArmyTimes.com, NavyTimes.com, AirForceTimes.com and MarineCorpsTimes.com.
"I'm delighted that the College of Business was once again been recognized as "Best for Vets" Venkat Reddy, dean,  College of Business said. "Our service members deserve a first-class education, and we are proud to provide the men and women in uniform in our community with the support and training to advancing their military careers or making a successful transition to the civilian business world."
— Eric Nissen, College of Business