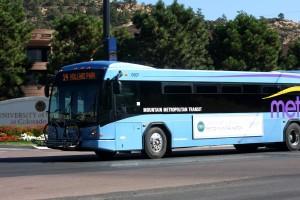 Bus service to UCCS by Mountain Metropolitan Transit will continue as scheduled until May 1, when a series of summertime moves will result in changes to bus stops on campus.
Mountain Metro service to UCCS has been a source of discussion and negotiation since last month, when the city owned bus service proposed changing service to the campus and eliminating the stop on the main campus at Centennial Hall.
Now, after talks between UCCS and Mountain Metro, officials have announced this multi-step plan:
There will be no changes to existing bus routes and stops that serve UCCS through May 1.
Starting May 1, the campus stop for Route 39 (formerly known as Route 9), which connects UCCS with Chapel Hills Mall, will change. The stop will move from central campus to the north campus at Eagle Rock Road.
Also starting May 1, the main campus stop for Mountain Metro Route 9 will move temporarily from in front of Centennial Hall to along Austin Bluffs Parkway. The change will last through mid September.During the summer, Route 9 will continue its route through the Cragmor neighborhood on Meadow Lane, but instead of coming onto campus as it has, the bus will turn west on Austin Bluffs Parkway and make a stop at a bench used by Route 34 buses, south of the 224 parking lot. After making a quick jog through campus, Route 9 will then head eastbound on Austin Bluffs with a stop at the bus shelter in front of the Family Development Center, then head south on Meadow Lane through the neighborhood.
This summer, UCCS will create a new stop on campus at the top of parking lot 224 between the main entrance and southwest entrance of the University Center. Creating this new stop will require UCCS to remove part of a grassy area near lot 224 to accommodate two city buses. UCCS also will convert the upper row of lot 224 to one-way westbound traffic for cars and buses. Parking spots in that upper row will be converted to angled parking, resulting in the elimination of six to eight parking spots.  UCCS will add a sidewalk from the shuttle stop to the existing sidewalk in front of the University Center.UCCS will move the transit shelter now in front of Centennial Hall to the new stop at the University Center.
Starting Sept. 18, Route 9 will change its route slightly. Buses will arrive on campus southwest of the University Center and begin using the new stop. Route 9 will no longer make the stops on Austin Bluffs Parkway. Route 9 buses will leave campus traveling west through lot 224 to the traffic circle near the UCCS public safety building, then turn eastbound onto Austin Bluffs Parkway.
UCCS will conduct a campus survey to assess demand for Mountain Metro bus service, said Susan Szpyrka, senior vice chancellor, Administration and Finance.
Mountain Metro proposed moving the Centennial stop as part of a broader set of changes announced earlier this year. The changes were aimed at increasing bus frequency across the transit system.  But the bus service changed its proposal after more than 30 people attended a Mountain Metro meeting on campus last month.
— Illustrations by Jeffrey M Foster