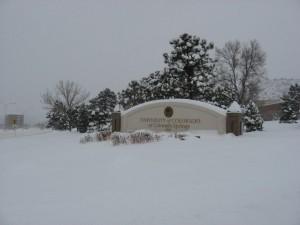 UCCS will close a second day because of hazardous weather conditions.
All classes and activities are cancelled for Tuesday, Feb. 2.
The Department of Public Safety announced the closure at approximately 8:20 p.m. Feb. 1. Campus also closed Feb. 1
Dining and Food Services will serve residents according to schedule for Roaring Forks and the Lodge.
Police and dispatch operations remain available.
Shuttles will not operate during the closure.
A winter storm warning remains in effect until 11 a.m. Tuesday, Feb. 2.  Please continue to monitor local forecast information by visiting www.weather.gov/pub.
While most of the campus enjoyed a day off, Physical Plant Department crews worked overtime Monday and Tuesday to remove snow and get the campus ready to open. The crews used recently purchased equipment to assist their efforts.
— Photos by Rob Dougherty