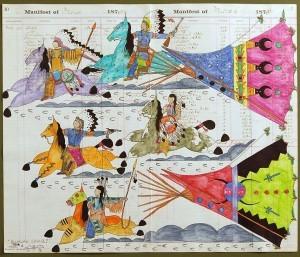 The UCCS Galleries of Contemporary Art will open two new exhibitions on Feb. 5 as part of Mo'Print 2016, a state-wide biennial celebration of printmaking.
"Inhabiting" with Mary Hood and Marilee Salvator and "The Map(ing) Project" will feature  21 Native American and indigenous artists at GOCA 121 S. Tejon Street in downtown Colorado Springs. The two exhibits will show side by side. Gallery hours are noon to 5 p.m. Wednesdays through Saturdays or by appointment through March 19.
At 5 p.m. Feb. 5, Hood will provide a gallery talk. Her comments will be followed by a reception until 9 p.m.
About the Exhibits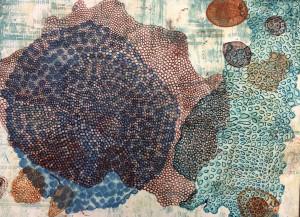 "Inhabiting" features two innovative printmakers, Mary Hood and Marilee Salvator. Hood explores ways that myth reconstructs time, space, narrative, and experience. She incorporates various low- and high-technology processes. Salvator prints and installations highlight the beauty of lush, overgrown plants juxtaposed with their destructive nature. Her scientific renderings of cancer cells are delicate and colorful.
"The Map(ing) Project" was created in 2009 by Hood and brings together indigenous and Native American artists with graduate students from Arizona State University's School of Art to collaboratively create prints that meld visual storytelling, culture, place, language and identity. Artists to be exhibited at GOCA121 include Yolanda Hart Stevens, Jason Garcia, Dana Claxton, Steven Yazzie, Randy Kemp. Marilou Schultz, Ahkima Honyumptewa, Nicholas Galanin, Eliza Naranjo Morse, Hulleah J. Tsinhnahjinni, Dallin Maybee, Wanesia Misquadace, C. Maxx Stevens, Thomas Greyeyes, Rowan Harrison, Sonya Kelliher-Combs, Craig Kelly, Sarah Sense, Warren Montoya, Tom Jones and John Feodorov.
Additional details are available at https://asumapping.wordpress.com.
About the Artists
Hood is an associate professor of art/printmaking at Arizona State University. She earned a Master of Fine Art degree from the University of Dallas and an undergraduate degree from Ringling School of Artand Design in Sarasota, Florida. Her past exhibits and projects have been displayed internationally.
Salvator is an assistant professor of printmaking and design at Western Kentucky University. Her work has been exhibited more than 100 times internationally and is included in more than 25 collections including those at JCI University, Jiangxi, China, and Sakmi Art Museum, Okinawa Prefecture, Japan.
GOCA is a regional hub of contemporary art, culture, and conversation. By featuring world-class artists, hosting artist and expert talks, and offering meaningful events, GOCA engages UCCS students, faculty, staff and Pikes Peak Region community members in contemporary culture and life. GOCA is a contemporary arts organization with two galleries, one founded on the UCCS campus in 1981 and a satellite downtown location that opened in 2010 in the Plaza of the Rockies building.