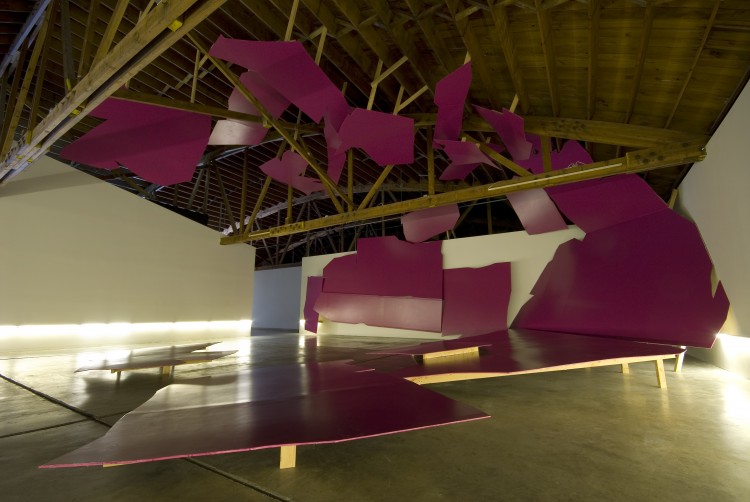 "Disappear here," an exhibit by Los Angeles-based artist Jenene Nagy, will open Jan. 29 at the UCCS Gallery of Contemporary Art's campus location, GOCA 1420, in Centennial Hall.
Nagy will speak at 5 p.m. A reception will follow. All events are free and open to the public.
The exhibit will continue will remain open until March 12. Gallery hours are noon to 5 p.m. Wednesdays through Saturdays or by appointment.
Nagy frequently works on a large scale and employs familiar materials such as drywall, 2 x 4's, house paint and Plexiglas to transform interior spaces. Her architectural interventions appear as deconstructed paintings in space. Floors are raised, walls are taken apart, and colors are both chaotic and unifying.
Nagy is in residence at GOCA during the month of January working alongside UCCS students to create a site-specific large-scale installation in the 2,800 square foot campus GOCA1420 space.
Nagy lives and works in Southern California. She earned a bachelor's in fine arts from the University of Arizona and a master's in fine arts from the University of Oregon. Her work has been exhibited nationally and internationally at venues including the Portland Art Museum, Weatherspoon Art Museum, Torrance Art Museum, Takt Kunstprojektraum, Berlin, Germany, and Dam Stuhltrager, Brooklyn, New York. She has received grants from the New York Foundation for Contemporary Art, the Ford Family Foundation, Colorado Creative Industries and the Oregon Arts Commission. The Huffington Post named her work as one of the Northwest's Top Ten Exhibition Picks of 2010. Along with a rigorous studio practice, Nagy is one-half of the curatorial team TILT Export:, an independent art initiative with no fixed location, working in partnership with a variety of venues to produce exhibitions. From 2010-11 she was the curator-in-residence for Disjecta Contemporary Art Center, Portland, Oregon, and currently serves on the board of directors for ARTPAPERS. Nagy's work is represented by PDX Contemporary Art and Michael Warren Contemporary, Denver.
GOCA is a regional hub of contemporary art, culture and conversation. By featuring world-class artists, hosting artist and expert talks, and offering meaningful events, GOCA engages UCCS students, faculty, staff and Pikes Peak Region community members in contemporary culture and life. GOCA is a contemporary arts organization with two galleries, one founded on the UCCS campus in 1981 and a satellite downtown location that opened in 2010 in the Plaza of the Rockies building.