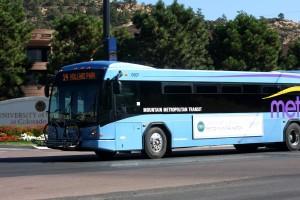 Mountain Metropolitan Transit, the city bus service, is considering moving the University of Colorado Colorado Springs stop on Route 9 to Eagle Rock Road near the Four Diamond Sports Complex. The proposed changes to Route 9 would route the bus straight up Nevada Avenue, eliminating bus service on Mount View Lane through the Cragmoor neighborhood and the bus stop in front of Centennial Hall. Buses on Route 9 would run every 15 minutes. The changes would take effect in May.
Mountain Metro will host a meeting about its proposed route changes 6:30 p.m. Thursday, Jan. 21, in University Center 302. Bus users also can fax comments to 385-5419 or email to [email protected]. Comments will be accepted through Jan. 27.
Mountain Metro said the proposed changes to Route 9 would remove buses from campus congestion and drop riders closer to the University Village Colorado shopping center, among other benefits.