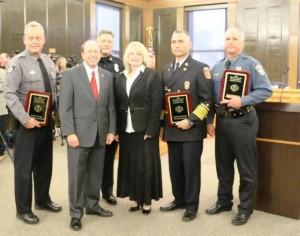 Colorado Attorney General Cynthia H. Coffman honored Colorado Springs law enforcement and first responders during a Jan. 12 ceremony at Colorado Springs City Hall.
Coffman recognized the UCCS Police Department, the Colorado Springs Police Department, the El Paso County Sheriff's Department and the Colorado Springs Fire Department for  actions during a Nov. 27  shooting at Planned Parenthood's Colorado Springs offices on Centennial Boulevard. UCCS Police Officer Garrett Swasey and two others were killed in the shooting.
UCCS Police Chief Brian McPike attended the ceremony and accepted the award on behalf of the department. Rachel Swasey, wife of Officer Swasey, also attended and thanked those who worked with her husband.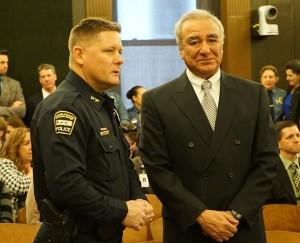 "Each of these men and women responded heroically to an emergency call, not only because it was part of their job, but because of their inherent sense of duty. These individuals represent the best of the best," Coffman said. "They did what our first responders do each and every day in Colorado. They risked their lives to protect Coloradans and prevent more casualties."
Colorado Springs Mayor John Suthers also presented the "Spirit of the Springs Award" to six civilians who assisted during the shooting rampage.
— Photos and video courtesy City of Colorado Springs