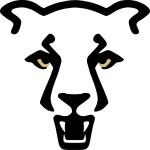 UCCS student-athletes maintained a fall 2015 term grade point average of 3.12, extending the streak of semesters with a 3.0 or better grade point average to 23, according to the Office of Admissions and Records.
A total of 40 Mountain Lion student-athletes earned grade point averages in excess of 3.75 and places on either the Dean's or President's honor lists.
UCCS student-athletes have collectively posted a GPA greater than 3.00 for every semester since fall 2004. Thirteen student-athletes finished the semester with a perfect 4.0 for President's List honors, and another 27 had a term GPA between 3.75 and 3.99 for a spot on the Dean's List. Kim Catlett was the Rocky Mountain Athletic Conference Academic Player of the Year in volleyball and fall sports recorded five RMAC All-Academic First Team selections and another 26 RMAC Honor Roll awards.
In competition, men's golf earned its 12th RMAC championship and the 17th in any sport at UCCS in the conference regular season. Men's and women's soccer and volleyball each qualified for the RMAC Tournament, women's soccer reached the conference semifinals for the first time in program history. Men's and women's cross country both finished fifth at the RMAC Championships and women's golf finished fourth at the RMAC North event in September.
UCCS President's List (4.00 Semester GPA)
| | |
| --- | --- |
| Name | Sport |
| David Higgins | Men's Cross Country / Track & Field |
| David Duarte | Men's Soccer |
| Zach Egeler | Men's Soccer |
| Shannon Kelly | Women's Basketball |
| Maria Haas | Women's Basketabll |
| Melanie Diep | Women's Cross Country / Track & Field |
| Michaela Mansfield | Women's Soccer |
| Dana Shellhorn | Women's Soccer |
| Paige Von Bank | Women's Soccer |
| Evelina Hellgren | Women's Soccer |
| Christina Mandico | Volleyball |
| Natasha Habert | Volleyball |
| Alex Darwin | Women's Golf |
UCCS Dean's List (3.75-3.99 Semester GPA)
| | |
| --- | --- |
| Name | Sport |
| Ryan Doner | Men's Cross Country / Track & Field |
| Derek Tao | Men's Cross Country / Track & Field |
| Zach Tripp | Men's Golf |
| Chris Welch | Men's Soccer |
| Cort Searls | Men's Soccer |
| Josh Berntsson | Men's Soccer |
| Cal Franze | Men's Soccer |
| Blake Barnes | Men's Soccer |
| Peter Vogrin | Men's Soccer |
| Joey Sale | Women's Basketball |
| Alyssa Wendt | Women's Cross Country / Track & Field |
| Natalie Polei | Women's Cross Country / Track & Field |
| Sam Bauer | Women's Cross Country / Track & Field |
| Claire Nibbe | Softball |
| Nikki Hoffman | Softball |
| Whitney Weber | Softball |
| Leigh Lancaster | Softball |
| Brooke Tominello | Women's Soccer |
| Grace Ramsden | Women's Soccer |
| Jess Freeze | Women's Soccer |
| Bailee Jameson | Women's Soccer |
| Amber Lamdin | Women's Soccer |
| Cheyenne Brown | Women's Soccer |
| Hayley Gillen | Women's Track & Field |
| Cassidy Bush | Volleyball |
| Alyssa Brinton | Volleyball |
| Kim Catlett | Volleyball |