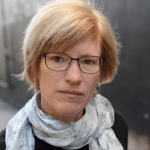 A veteran, award-winning journalist will join the staff of University Communications and Media Relations Jan. 19.
Joanna Bean, editor of the Colorado Springs Gazette, was named assistant director Jan. 4 following a national search. Bean will manage UCCS social media and support internal communication and media relations efforts in coordination with Tom Hutton, executive director, University Communications and Media Relations.
Martin Wood, senior vice chancellor, University Advancement, announced the appointment.
"Joanna Bean brings more than two decades of public affairs experience to UCCS," Wood said. "She will be a valued addition to University Advancement, helping us tell the university's story to a variety of audiences."
Since Sept. 2014, Bean has served as editor of The Gazette. She previously served in several other positions with the paper including managing editor, local news editor, business editor and business reporter dating to 1990.
As managing editor, Bean worked closely on The Gazette's 2013 Pulitzer Prize winning series "Other Than Honorable," an examination of the U.S. Army's use of discharge policies. She also led The Gazette's "Casualties of War" series in 2009 that examined the challenges faced by returning soldiers. That series was a finalist for the Pulitzer Prize. Bean earned numerous individual state and regional journalism awards as a writer and editor.
She earned a bachelor's degree in journalism from Colorado State University, Fort Collins.
Bean replaces Philip Denman who recently moved to the Seattle, Washington-area.
— Photo by Nichole Montanez