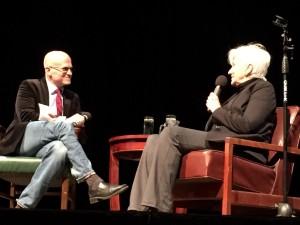 Wicked weather wasn't enough to stop the Colorado Springs appearance of the actress who played Clairee in "Steel Magnolias," Anna Madrigal in "Armistead Maupin's Tales of the City," and Rose Castorini in the romantic comedy "Moonstruck."
Academy Award-winning actress Olympia Dukakis braved a late-fall blizzard to share her thoughts with UCCS students, faculty and Theatreworks patrons Nov. 17. The storm, which closed campus, caused the Prologue Series to be moved to the Colorado Springs Fine Arts Center and the home of series founder Kevin Landis, associate professor, Department of Visual and Performing Arts.
Dukakis shared her story of struggling as an actress in the 1970s and later winning roles in some of America's most-believed films. She won an Academy Award and Golden Globe Award for best actress in a supporting role for the 1988 hit "Moonstruck." As Rose Castorini, Dukakis played the mother of Cher's character, Loretta Castorini, a book keeper from Brooklyn, New York, who finds herself in a difficult situation when she falls for the brother of the man she agreed to marry, the best friend of her late husband who died seven years previously.
The Prologue Series brings eight to 10 lecturers to campus annually including Brian Dennehy, the barrel chested silver-haired star of such films as "Looking for Mr. Goodbar," "Semi-Tough," "Foul Play," "Rambo," and "Gorky Park."
"Having someone like Olympia is so important to our students and community," Landis said. "Her high profile certainly attracts attention. But at the end of the day, she is a teacher and the time that she spent working with students in great depth was invaluable and something that none of us will forget."
— Photos courtesy of Kevin Landis