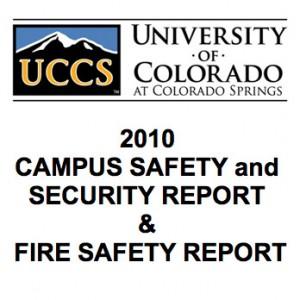 Thefts and burglaries are significant problems at UCCS, according to a recently issued report.
But the likelihood of being a crime victim can be dramatically reduced through the diligence of all campus community members, according to Jim Spice, chief, Police Department.
"Thefts on campus continue to be an issue," Spice said. "Most of these thefts have been crimes of opportunity and are happening because individuals are leaving their car, office, and dormitory doors unlocked or open and leaving their laptops, backpacks, purses, etc. unattended. This type of behavior presents an easy target for would-be thieves."
Spice outlined the results of the 2010 Campus Safety and Security Report & Fire Safety Report following its issue last month. By federal law, all college campuses must report crimes on and near campus. Students, faculty and staff must be notified of the report's availability.
In most crime categories, UCCS recorded zeros. Exceptions were theft, burglary, liquor and drug violations, and lone reports of aggravated assault and vehicle theft.
In 2009, UCCS Police received 14 burglary reports. There were 8 burglary reports in 2008 and 17 in 2007.
In 2009, UCCS Police received 59 theft reports. There were 68 theft reports in 2008 and 71 in 2007.
Theft is taking someone else's property while burglary involves entering a room or office with the intent of committing a crime, Spice said.
Arrests for liquor violations declined in 2009 (27 in 2009, 53 in 2008) while referrals to campus disciplinary procedures increased (69 in 2009, 28 in 2008). Drug law violations followed a similar trend.
Two years ago, UCCS began an alcohol education program called "Choices." The program is for first-time offenders who cooperate with Public Safety and has significantly reduced repeat offenses, Spice said.
Also included in the report is information on safety programs, how to report a crime, and fire safety procedures.
A printed copy of the report is available by contacting the Public Safety Department at [email protected], or calling 255-3111. The report is available online at http://www.uccs.edu/~pusafety/safety/