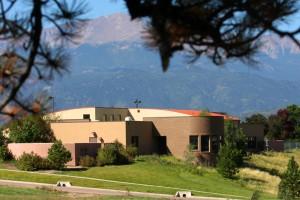 Current and future students at UCCS may be eligible for assistance with child-care expenses, according to the terms of a four-year $186,000 federal grant.
Ida Bauer, director, Family Development Center, announced receipt of a Child Care Access Means Parents in School grant in late September. The four-year grant is funded by the U.S. Department of Education.
"The potential of this grant to help low-income students achieve their goal of attending college while still caring for their families is incredible," Bauer said.  "We are pleased to help students balance school and family responsibilities while they build a future."
Plans are for low-income students to receive an approximately 25 percent discount on costs associated with day care at the Family Development Center. That discount has a value of more than $2,000 annually for full-time enrollment. Eligibility will be determined by the same federal standards that provide Pell grants.
At UCCS, more than 3,000 students are eligible for Pell grants and there were more than 50 specific requests for child-care assistance last year. Bauer estimated that more than 30 current UCCS students will be eligible for the reduced fees and that thousands of potential students exist throughout southern Colorado.
The Family Development Center is the campus child-care center at UCCS and offers full- and part-time learning programs for children ages one through 10. The center has 150 children who are enrolled year-round and has been in operation for 13 years. This is the second Child Care Access Means Parents in School Grant the FDC has received. In 2005, the FDC received a four-year $168,000 grant.