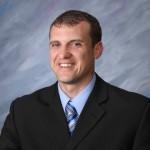 A recreation manager with more than 15 years of experience is the new director of the UCCS Campus Recreation Center.
Skyler Rorabaugh, most recently executive director of the Estes Valley Recreation and Park District, will begin at UCCS August 3. As director, Rorabaugh will be responsible for the day-to-day operation of the under-expansion recreation center. The center offers indoor and outdoor recreational opportunities for faculty, staff and students as well as student intramural sports. Campus Recreation is under expansion and will grow from its current 54,000 square feet to 95,000 square feet as an evolution to a Recreation and Wellness Center. The Recreation and Wellness Center will house the Student Health Center, University Counseling Center and nutrition services and is expected to be completed in late fall.
Tamara Moore, executive director, Auxiliary Services, announced Rorabaugh's hiring following a national search.
"Skyler not only brings the knowledge, energy and experience to move the recreation programs forward, but also the vision to assist in developing a wellness concept for the future," Moore said.
At Estes Valley Recreation and Park District, Rorabaugh was responsible for a $4.8 million annual budget and facilities management that included golf courses, a restaurant, a marina, a teen center, aquatic center, parks and a firearm and archery range. Previously, he served as executive director of the Turner Recreation Commission in Kansas City, Kan., aquatics and recreation manager in Bonner Springs, Kan., and executive director of the Ellis Recreation Commission, Ellis, Kan.
Rorabaugh earned bachelor's and master's degrees from Fort Hays (Kansas) State University. He fills a position vacant for more than a year.