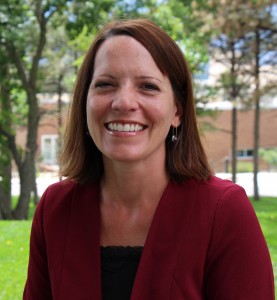 An associate director for international education at Northern Arizona University, Flagstaff, is the new director of GEO: The UCCS Global Engagement Office.
Mandy Hansen, associate director, Center for International Education and director of international student recruitment, Northern Arizona University, was selected following a highly competitive national search. She will begin July 27. Kee Warner, associate vice chancellor for inclusion and academic engagement, Academic Affairs, announced Hansen's appointment and a change in the name of the office. Previously, the Global Engagement Office was known as the Office of International Affairs.
"The name GEO better reflects the mission of engaging our campus globally by welcoming and supporting international students, by involving UCCS students in education abroad and academic interchanges, and by developing strong partnerships with a full range of global partners," Warner said.
Since 2006, Hansen worked in various positions at Northern Arizona including a dual appointment as associate director of the Center for International Education and director of international admissions and recruiting, associate director of admissions processing and associate director of admissions and transfer student recruitment. Earlier, she worked in international student admissions and international student advising positions at Alfred (New York) University and Salt Lake (Utah) Community College.
She earned a bachelor's degree from the University of Pittsburgh, a master's from Alfred University and doctoral degree from Northern Arizona University.
Hansen replaces Anthony Shull who left the university to pursue other career opportunities.