The newest members of the University of Colorado Board of Regents toured UCCS June 17.
Regent Linda Shoemaker, Boulder, and Regent John Carson, Douglas County, met with UCCS Chancellor Pam Shockley-Zalabak and campus vice chancellors before taking an abbreviated campus tour. Because of mud in many areas of campus, Shockley-Zalabak and Susan Szpyrka, vice chancellor, Administration and Finance, pointed out current and future construction projects from the soccer field atop Alpine Valley Parking Garage.
Shoemaker and Carson were elected to six-year terms in November 2014 and took office in January. Shoemaker represents District 2 which includes the north-central Colorado communities of Boulder, Northglenn and Thornton as well as Vail and Grand Lake. Carson represents District 6 which includes central Colorado communities of Aurora, Centennial, Littleton and Highlands Ranch. There are nine members of the CU Board of Regents.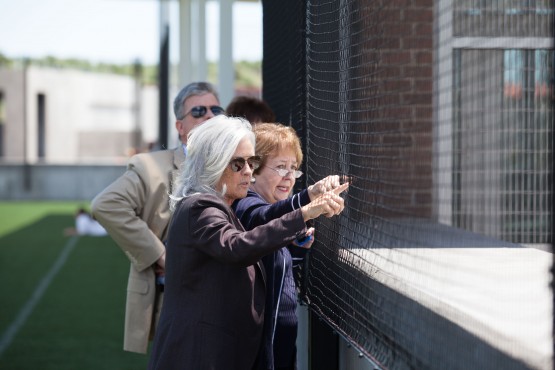 For more information about the Regents, see the CU Connections articles
— Photos by Jeffrey M. Foster, University Communications and Media Relations