Update: This event has been postponed indefinitely as a result of inclement weather. Original story follows. 
---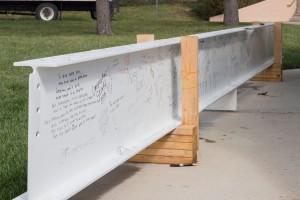 A topping off ceremony for the expansion of the campus Recreation Center  is now scheduled for 1 p.m. May 14 at the construction site on the west side of campus.
The ceremony was rescheduled because of mud at the construction site and forecasts for stormy weather, according to Charles Cummings, project manager, Facilities Services.
Topping off ceremonies celebrate the installation of the final piece of structural steel on a construction project. Leaders of Saunders Construction, the project general contractor, and UCCS will talk briefly before a crane hoists the final beam into place.
Faculty and staff are invited to watch the beam go into place and can sign their names to it beforehand. The beam is on the sidewalk near Osborne Science and Engineering.
The $16.3 million 51,000-square foot expansion will make way for a new student health clinic, counseling services and expand recreation options.  When complete, the project will almost double the footprint of the campus recreation center. The project is expected to be completed by late 2015.
— Photo by Jeff Foster