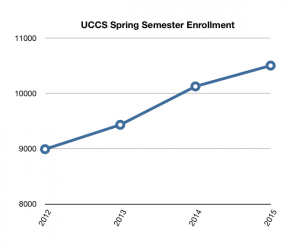 Spring 2015 enrollment increased by almost four percent from a year ago, according to enrollment figures released Feb. 9.
Homer Wesley, vice chancellor, Student Success and Enrollment Management, announced that 10,506 students enrolled for the spring semester, a 377 student or 3.7 percent increase from the 10,129 students who enrolled in spring 2014. Student credit hours are the sum of all credits for which students enroll. For spring 2015, UCCS students generated 120,859 credit hours, a 4,362 hour or a 3.7 percent increase from the 116,497 student credit hours generated in spring 2014.
The official census date for the spring semester was Feb. 6. Figures were compiled by the Office of Institutional Research.
"This preliminary information is positive," Wesley said. "UCCS enrollment is strong, thanks to the efforts of many on campus but we must redouble our efforts to retain qualified students. Improving student retention is a priority."
Of concern to Wesley and other campus administrators is the ability of the university to retain students and keep them on path to graduation. We are reviewing student retention rates and best practices used by UCCS departments, as well as s at other universities, with the goal of helping students succeed while maintaining rigorous academic standards.
This fall, UCCS set records for headcount, credit hours and the size of the freshman class. Total enrollment was 11,132, a 534 student or 5 percent increase from fall 2013.
Since 2005, UCCS has grown by more than 3,500 students or 47 percent.
Related post