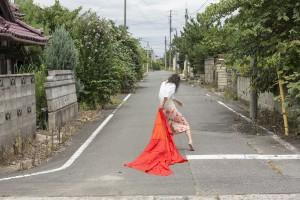 The UCCS Galleries of Contemporary Art will open "A Body in Fukushima," featuring Eiko Otake and William Johnston Dec. 5 at the downtown GOCA121 gallery.
Opening events include a 6 p.m. dance performance with UCCS and Colorado College students and a 5 p.m. to 9 p.m. public reception. All events are free and open to the public. The exhibit will be on display through Feb. 14, 2015, with holiday closure Dec. 21, 2014 through Jan. 6, 2015.
"A Body in Fukushima" is the collaborative effort of MacArthur award-winning movement artist Eiko Otake and Japanese historian and photographer William Johnston. In 2014, Eiko and Johnston made two extended visits to the evacuated areas surrounding the Fukushima Daiichi nuclear reactors which exploded after the massive earthquake and tsunami that hit the northeast Japanese coast in March 2011. Though access to part of the radiation-damaged areas has recently been allowed, most former residents of the affected regions remain exiled due to  ongoing radioactive contamination.
Eiko and Johnston journeyed through now desolate train stations and surrounding neighborhoods, places where generations of people lived and worked. Johnston photographed Eiko as she embodied bitter grief, anger and remorse in the face of human failure in the wake of the disaster, resulting in a series of haunting photographs and time-based artworks. Eiko is internationally known as one half of the renowned performance duo Eiko and Koma. "A Body in Fukushima" is conceived as part of her first solo project "A Body in Places." Eiko's haunting, evanescent, and powerful gestures bring the nuclear disaster close to the viewer's body and evoke vivid imagination.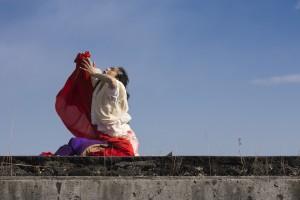 Eiko wrote, "By placing my body in these places, I thought of the generations of people who used to live there."
Johnston, also a Japanese history professor, regards the project as a form of witnessing.
"By witnessing events and places, we actually change them and ourselves in ways that may not always be apparent but are important," Johnston wrote. "Through photographing Eiko in these places in Fukushima, we are witnessing not only her and the places themselves, but the people whose lives crossed with those places."
The exhibition will include two videos, "A Body in Fukushima: Winter" and "A Body in Fukushima: Summer." Using Johnston's still photographs, Eiko edited and choreographed the sequence to create a new time-based work with sound. While the videos document their two trips to Fukushima in January and July 2014, these artworks also present a new way to archive a movement work and the artist's motivations.
Since 1972, Japanese-born choreographer/dancer Eiko Otake has collaborated with her partner and spouse, Koma, in creating a unique theater of movement out of stillness, shape, light, sound, and time. Born and raised in post war Japan, both Eiko and Koma studied with Tasumi Hijikata and Kazuo Ohno in Japan, and later with Manja Chmiel in Germany before moving to New York in 1976. Since then, they have presented their works in theaters, universities, museums, galleries, and festivals world-wide, including numerous appearances at BAM's Next Wave Festival and the American Dance Festival. Eiko and Koma have also created two living gallery installations: "Breath," commissioned by the Whitney Museum of American Art in 1998, and "Naked," commissioned by the Walker Art Center in 2010. For both of these engagements, Eiko and Koma performed for four weeks during all open museum hours. Their most recent living installation, "The Caravan Project" was shown at the MoMA's lobby in January 2013 Eiko and Koma have received two "Bessies"(1984 and 1990), Guggenheim (1985), MacArthur (1996) and United States Artists (2006) Fellowships. They were honored with the Samuel H. Scripps American Dance Festival Award (2004) and the Dance Magazine Award (2006) for lifetime achievement in modern dance. Most recently, Eiko and Koma were honored to be among the first round of artists selected for the Doris Duke Performing Arts Awards (2012).
William Johnston is a scholar and a photographer who was born in Rawlins, Wyo. He earned a Ph.D. from Harvard University in history and east Asian languages and is a professor of history at Wesleyan University, Middletown, Conn. During the 2014-2015 academic year, he is the Edwin O. Reischauer Visiting Professor at Harvard University, where he will teach courses on the history of disease and public health in East Asia and on the atomic bomb. His research has focused on the intersection of public health, cultural values, and economic and political forces. He is the author of "The Modern Epidemic: A History of Tuberculosis in Japan" and "Geisha, Harlot, Strangler, Star: A Woman, Sex, and Morality in Modern Japan," as well as numerous articles on the history of disease and medicine in Japan. He is currently working on a book about the history of cholera in Japan. As a photographer Johnston works with digital color, 35 mm black-and-white film, large-format cameras and platinum prints. Johnston studied photography with J. Seeley, Ralph Gibson, George Tice, Robert Hennessey, and Sal Lopes.
GOCA is a regional hub of contemporary art, culture, and conversation. By featuring world-class artists, hosting artist and expert talks, and offering meaningful events, GOCA engages UCCS students, faculty, staff and Pikes Peak Region community members in contemporary culture and life. GOCA is a contemporary arts organization with two galleries, one founded on the UCCS campus in 1981 and a satellite downtown location opened in 2010 in the Plaza of the Rockies building.