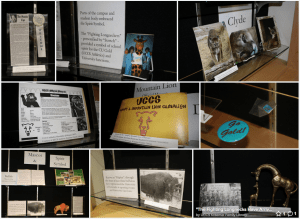 An exhibit tracing the history of UCCS athletic mascots and campus spirit symbols recently opened on the third floor of the Kraemer Family Library.
The Archives Department in the Kraemer Family Library assembled an exhibit of hawks, giraffes and gold, all of which represented UCCS before the adoption of the mountain lion as the campus mascot.
The exhibit is in the display cases east of the third floor stair case.
For information on the exhibit or to donate items to the archives, contact Mary Rupp, [email protected], or 255-3094.
To see a previous Communique article on athletic mascot history, visit http://www.uccs.edu/~ur/communique/2009/09/11/boomer.html.
Other Archives displays can be found at www.uccs.edu/archives/index/displays.html