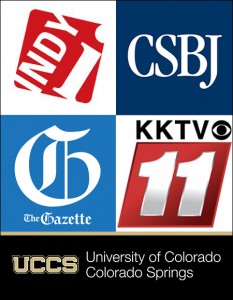 Three Colorado Springs newspapers will join with UCCS to host an Oct. 15 debate between Colorado Gov. John Hickenlooper and his Republican challenger, former U.S. Rep. Bob Beauprez.
The Gazette, the Colorado Springs Independent and the Colorado Springs Business Journal will join UCCS to host the 7:30 p.m. to 9 p.m. debate at Gallogly Events Center. Don Ward, news anchor, KKTV 11 News, will serve as moderator.
The event is free and open to the public. Seating is limited and tickets will be required. Tickets will be distributed by the publications, the gubernatorial campaigns, Pikes Peak Community College, Colorado College, and UCCS beginning Oct. 8. At UCCS, the tickets will be distributed at the University Center front desk beginning at noon Oct. 8 for UCCS students, faculty and staff only. UCCS identification is required for pick up and only one ticket is available per person.
Individuals with tickets should arrive on campus by 6:30 p.m. All ticket holders must be at the Gallogly Events Center by 7:10 p.m. Those arriving after 7:10 p.m. will be admitted on a first-come basis.
No large bags (purses or backpacks) or campaign signs will be allowed at the event. Those with signs will be directed to a public forum space near the mountain lion statue on the ground level of the University Center. Additionally, those who attend are asked to stay for the duration of the debate. No re-entry to the event will be allowed. Parking will be free to ticket holders.
"All three newspapers worked together to bring this debate to Colorado Springs because we know the value we bring to inspire the conversation on important community issues," Dan Steever, publisher, The Gazette, said.
John Weiss, publisher, The Independent, and board chairman, the Colorado Springs Business Journal, said: "While we compete fiercely with the Gazette for both stories and advertisers, we are pleased to have joined forces to bring a fair, spirited and much needed discussion to Colorado Springs."
Candidates will be questioned by representatives from all three sponsoring newspapers, the UCCS student newspaper, audience members, and from a list of questions submitted by readers of the newspapers via social media. In an effort to facilitate a fair and spirited debate, the candidates will also have the opportunity to question one another.
"It is important for citizens of Colorado's second largest metro area to hear directly from candidates seeking their votes," Steever said.
The debate will air live on MyKKTV Channel 11.2 (Comcast Channel 41, Century Link Prism Channel 10). It will also be streamed and available for replay on www.kktv.com , www.gazette.com and www.csindy.com.  KKTV will rebroadcast the debate until polls close on Nov. 2.
See KKTV's coverage of the debate