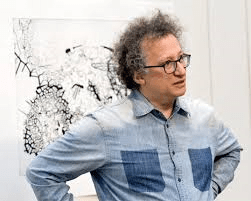 Art critic and author Barry Schwabsky will give a lecture and sign books Oct. 9 at UCCS.
Schwabsky will sign copies of his newest book, "Words for Art" beginning at 6:30 p.m. Oct. 9 during a reception at the campus location of the Gallery of Contemporary Art, GOCA 1420, in Centennial Hall. At 7:30 p.m. in the Centennial Hall Auditorium, Schwabsky will deliver a lecture as part of the Visiting Artists and Critics Series. The events are co-sponsored by GOCA and the Visual and Performing Arts Department.
Schwabsky is a poet, writer and art critic who writes about art for The Nation magazine and hyperallergic.com. His essays have appeared in many other publications, including Flash Art, Artforum, and the London Review of Books and Art in America. His books include "The Widening Circle: Con­sequences of Modernism in Contemporary Art," "Vitamin P: New Perspectives in Painting" and several volumes of poetry, the most recent being "Book Left Open in the Rain." He has contributed to books and catalogs on artists such as Henri Matisse, Alighiero Boetti, Jessica Stockholder and Gillian Wearing, and taught at the School of Visual Arts, Pratt Institute, New York University, Goldsmiths College (University of London) and Yale University.
The UCCS Visiting Artists and Critics Series fosters understanding and appreciation of contemporary art through dialogue and critical conversations. Artists and scholars of national significance are invited to UCCS to present public lectures and meet with UCCS undergraduate students in classes and workshop settings. The Visiting Artists & Critics Series is a collaborative program of the UCCS Galleries of Contemporary Art and the Department of Visual and Performing Arts.
For more information, contact Daisy McConnell, director, Galleries of Contemporary Art, [email protected] or (719)255-3504.
GOCA is a regional hub of contemporary art, culture, and conversation. By featuring world-class artists, hosting artist and expert talks, and offering meaningful events, GOCA engages UCCS students, faculty, staff and Pikes Peak Region community members in contemporary culture and life. GOCA is a contemporary arts organization with two galleries – one founded on the UCCS campus in 1981 and a satellite downtown location opened in 2010 in the Plaza of the Rockies building.