The stats are in and UCCS saw a decrease in most major crimes during the 2013-2014 academic year.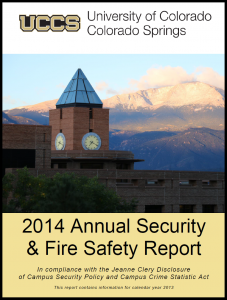 According to the 2014 Annual Security Report & Fire Safety Report, the number of reported thefts, alcohol violations, and drug related offenses were all down from previous years.
During the 2013-2014 academic year, 46 cases of theft were reported on campus, down from 64 the year before. Alcohol and drug related arrests dropped from 36 and 38, respectively, to 22 and 21.
Brian McPike, police chief, Department of Public Safety, attributed the decrease to the department's visibility and proactive patrols, as well as multiple crime prevention programs.
"We recognize the serious nature of underage alcohol and drug use, and remain committed to helping our students learn about the effects related to both," McPike said. "We're proud of our ongoing partnerships with the Dean of Student's Office, the UCCS Counseling Center, Residence Life and Housing, and the UCCS Student Health Center, who all play a major role in our ability to present these programs to an ever increasing student population."
Another resource Public Safety has utilized are designated Campus Security Authorities. Introduced in the Clery Act, CSAs are often from departments responsible for, but not limited to, student and campus activities, safety and security, discipline, housing, athletics, and human resources, and help accurately report crimes.
While most statistics dropped, the number of sexual assaults and on-campus burglaries increased.
According to McPike, there are several factors that contribute to the reported statistics, including when crimes are reported to the Department of Public Safety, and where they take place.
"The report shows an increase in sexual assaults and burglaries but doesn't always take into account when and where the events actually occurred," McPike said. "For example, one of the reported sexual assaults occurred in 2012, but was not reported to our department until 2013."
The increase in burglaries have been crimes of opportunity that often include properties owned by the university but may not be occupied.
In order to see continual decrease in crime, McPike encouraged faculty, staff and students to report any suspicious activity to the UCCS Police Department.
"With the continuous campus growth we've also seen a marked increase in the number of calls for service our police officers are responding to," McPike said. "We view campus safety as a partnership and encourage everyone to assist us in watching out for each other's safety and property."
The University Police Dispatch Center can be reached at 255-3111. Campus members can also make an anonymous report at the following link: http://www.uccs.edu/pusafety/police/reportacrime.html.
The Annual Security Report is issued annually on Oct. 1, and made available to students and university employees in compliance to the Clery Act and the U.S. Department of Education regulations.
The Annual Security Report contains a summary of campus crime statistics, campus safety and crime prevention programs, and safety information. The fire safety section has information about university housing fire notifications, drills and evacuation procedures, fire statistics, alarm systems and fire education and training.
The full 2014 Annual Security Report & Fire Safety Report can be viewed at: http://www.uccs.edu/asr/.