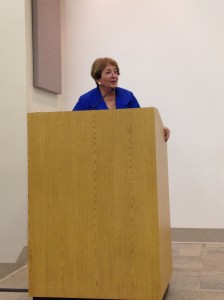 Chancellor Pam Shockley-Zalabak celebrated the opening of the fall semester by sharing preliminary enrollment figures at her first Chancellor's All-Campus forum Aug. 27.
"We've hit another record milestone this fall," Shockley-Zalabak said before sharing details of record overall enrollment and the largest-ever UCCS freshman class. "That we have a lot more people on campus is something I'm sure none of you have noticed."
The freshman class is expected to be 1,759, a 177 student or 11.2 percent increase from the record-setting 1,582 students in the fall 2013 freshman class. Preliminary figures show overall enrollment at 11,199 students, a 601 student or 5.7 percent increase from the 10,598 students who enrolled for the fall 2013 semester.
While enrollment will not be official until mid-September, Shockley-Zalabak called the increase "incredible and exciting." She cited expanded in-state student recruitment efforts, as well as those in states such as Texas and California, before debunking media reports that say Colorado college enrollment is up because of the state's laws regarding marijuana.
"I want to thank all of you who are working with full classrooms of students and transfer students for the efforts that you are making," Shockley-Zalabak said. "The increasing success of our students is what's drawing folks to come here."
Shockley-Zalabak cited student performances on professional examinations, as well as entrance to graduate or professional schools, as indicators of successful efforts by UCCS faculty and staff to help students achieve. She also reminded the more than 100 in attendance that the university's goal is to graduate students, not just admit them.
"We are the only institution where graduation rates for first-time low income students of any race or ethnicity equals the majority population," Shockley-Zalabak said. "What that says is that if you come here and work hard — and work with faculty and staff who support you —  good things happen."
Shockley-Zalabak reminded those in attendance of administrative changes that took place during the summer. Brian Burnett, senior vice chancellor, Administration and Finance, accepted a position at another university. His position will not be filled. Instead, Gary Reynolds and Gayanne Scott were promoted to assistant vice chancellors. Tamara Moore, executive director, Auxiliary Services, also received additional responsibilities.
She also highlighted the opening of the new Alpine Parking Garage and Fields, the Academic Office Building, and invited faculty and staff to a Sept. 5 groundbreaking for the Recreation Center's expansion.
Related content: