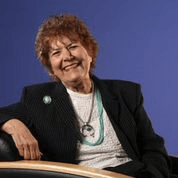 A reception following memorial services for Mary C. " Carole" Schoffstall, dean emerita, Beth-El College of Nursing and Health Sciences, is scheduled for 3:30 p.m. Aug. 2 at University Hall. Memorial services are scheduled for 2 p.m. Aug. 2 at the Shrine of Remembrance, 1730 E. Fountain Blvd.
Born March 14, 1939, she died July 26 at her home following a long fight with cancer.
She served as dean of the Beth-El College of Nursing before its merger with UCCS and helped lead the campaign leading to voter approval of the college's move from Memorial Hospital. She served as dean from 1990 until her 2008 retirement. She was associated with Beth-El since 1974.
In 2010, Carole received the Florence Nightingale for Human Caring Award in recognition of her many accomplishments. These included the merger with UCCS, an expansion in the college's academic programs, bringing a Sexual Assault Nurse Examiner Program to the college and involvement in several violence prevention programs. She worked closely with many local agencies to develop collaborative models of primary care delivery, made extensive private fund raising efforts on behalf of the college, and led the 2004 celebration of Beth-El's 100th anniversary of service in Colorado Springs.
Her survivors include her husband, Allen, professor, Department of Chemistry and Biochemistry; a son, Steve; a daughter, Sue; and four grandchildren.
Donations can be made to the Dr. Carole Schoffstall Endowed Professorship in Nursing and Health Sciences Fund, care of the CU Foundation, www.cufund.org/schoffstall. The purpose of the fund is to provide an endowed professorship in the Beth-El College of Nursing and Health Sciences at UCCS.
Related article: