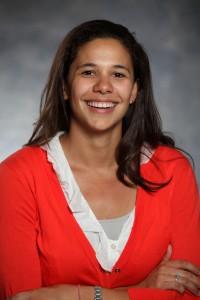 Cerian Gibbes, assistant professor, Department of Geography and Environmental Studies, was recently selected to participate in a Fulbright Regional Network for Applied Research Program, NEXUS.
The NEXUS program brings together a network of junior scholars, professionals and mid-career applied researchers from the U.S., Brazil and other Western Hemisphere nations for a series of three seminar meetings and a Fulbright exchange experience. Twenty scholars and practitioners were selected for the program that began in June and will continue through May 2016.
Gibbes is one of four who will focus on measuring climate change and its impact. As a NEXUS scholar, she will receive a $35,000 allowance to support travel, research materials and related expenses.
Gibbes joined the UCCS faculty in 2011 from the University of Florida where she earned bachelor's, master's and Ph.D. in geography with a concentration in land change science. Her research interests are human-environment interactions and the dynamics of socio-ecological systems, land use land cover change, natural resource management and adaptation to climate change.